I wanted to change my Watchface and then I saw, that nearly 50% of my purchased Watchfaces are gone!! I've bought the most of them in bundles!
Here are ALL my purchases:
18.06.2016: Dark Angel
05.11.2016: Dark Legend
25.12.2016: Saymaz Collection
25.12.2016: SW Analog Pilot Ref.007
18.01.2017: GRR Ultimate Watch Series
21.02.2017: G7 Mega Bundle
18.05.2017: Designer Bundle
WHAT THE FUCK FACER?!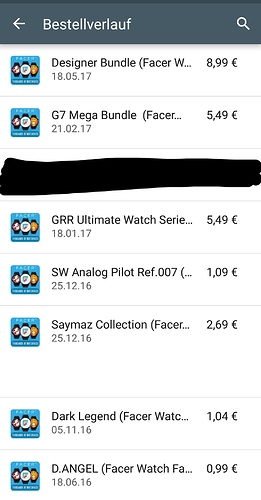 I want my purchased Faces back!