Thanks to Orakix for giving me the idea for this

That is really cool, and yes, very different.
Well done!!
I like this kind of out of the box thinking (and that the face is not littered with animations,

joking) .
One small thing maybe, if the battery% was in orange or white, it would be much better readable in the upper half of dial…
Thanks for your kind comments everyone, much appreciated, and I'll check out that Battery % colouring thanks Peter

Although you did miss the Monty Python phrase 'And now for something completely different'
It's probably because he wasn't a lumberjack and wasn't OK!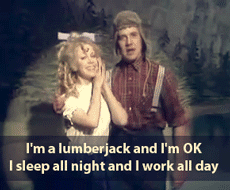 Well at least you weren't "drag" racing!