Nice article on some of the current android smartwatches. What's your favorite watch today?
Thanks for the link.
I only have the one watch - a Samsung Galaxy Watch. I'm not overly fond of its looks; It's ok but I'd prefer a more traditional stainless steel or titanium design - the rotating bezel is cool but it looks and feels a bit cheap ( I'd be happier with a solid stainless steel bezel ). I have replaced the strap with a stainless quick release one, which has improved its looks somewhat but it is still not up to the standard of my old analog watches from Seiko, etc.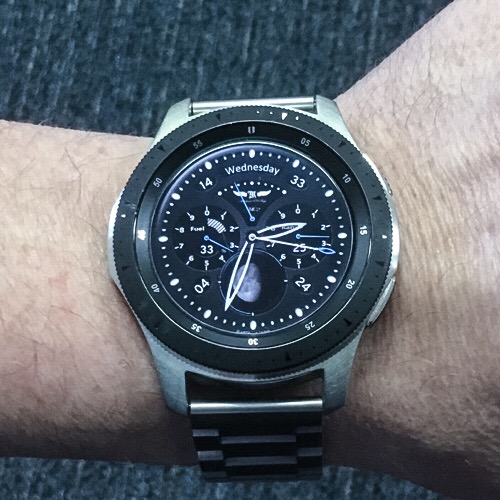 Having said that, from a functional point of view, I am very happy with it. It integrates very well with my Samsung phone, I've had no issues with the steps / heart rate / location sensors and, perhaps most importantly for me, I get quite good battery life with my always on display watch face designs; typically 2 full days (charge over night every second night ) but it looks like I might do even better with my latest design

I'd go with the Galaxy as well.
The battery life is unreal compared to my old watch (4-5 hours - LG Sport) … not as many apps on the Tizen side of things, but I didn't really take advantage of that with my WearOS watch when I had it.
I've updated the phone to a S10+ as well, and the integration with that makes it even better – it's nice to be able to track/log my heart rate throughout the day. I'd never have imagined I'd be able to use bluetooth all day on my watch and phone and not be forced to charge something.
I studied 6 months before I bought my actual watch: Huawei Watch W1 (black). Why this oldie? 1.4" display, sapphire glass, classic look, good specs, can talk to the caller. 2 days battery (not with always on screen but with BT, wifi, notifications). I don't need GPS, NFC. Depending on the watchface, I had even 12h always on screen.