See below for the individual PNG files ( separate file per hand ).
Note:
IMPORTANT - THE IMAGES NEED TO BE DOWNLOADED AT THE CORRECT SIZE ( 41 x 640 PIXELS )
To download the hands at the correct size, hover over the image of the hand you want and the following box will apear

press the "double arrow" in the pop-up box to display the image and then save it in the normal way ( on my PC I right click on it to bring up the option to save ).
This seems to work ok for me - please let me know if there is a problem - all images should be 41x640 pixels in size.
2D White
3D 01
3D 02
3D 03
3D 04
3D 05
3D 06
3D 07
3D 08
3D 09
3D 10
3D 11
3D 12
3D 13
…
notes:
A. Place the "Hub" image as the top hand layer and set its rotation to the same as second hand or a fixed angle if you want the highlights to remain stationary. If you hide the second hand in dim mode then you will need a second "hub" between the minute hand and the second hand.
B. Remember, if you want darker hands ( or different coloured hands ) all you have to do is adjust the colour for the hand in the editor. ( see image below )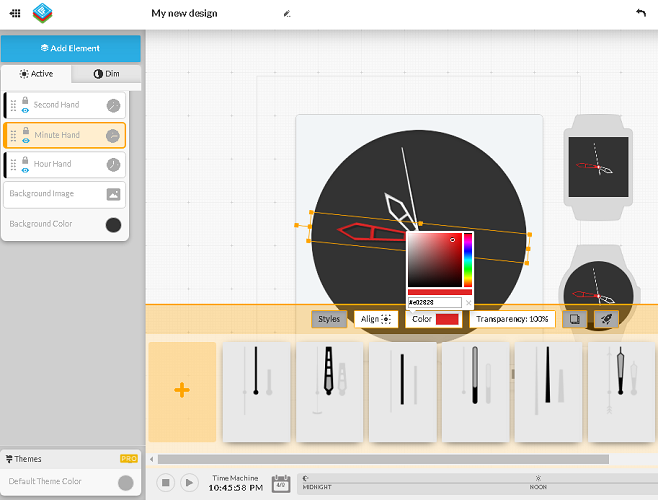 Example:

Below is the link to the example with inspection mode enabled.

…
These hands are of course free to use and modify.
If you use them I would love to see the end result … perhaps you could post an image or link to the face in the thread below.