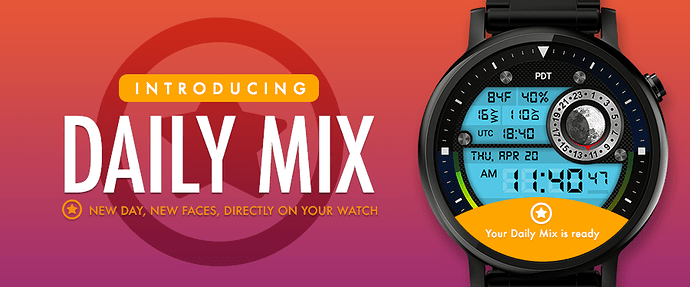 Good morning Android users! We are very excited to be releasing v3.1.5 today!
Introducing "Daily Mix" - new day, new faces, just for you, and directly on your watch! Every morning, just triple tap on your watch to access your mix, and spin it until you find the face that matches your style for the day! Fun! NOTE - this feature will ONLY work if you are running Android Wear 2.0.
Bug fixes and optimizations
For more info on this feature, see our official announcement at https://medium.com/little-labs/introducing-daily-mix-a-fun-new-way-to-discover-watch-faces-on-facer-be1e30359d8b
We'd love to hear your feedback on the feature - we have a few additional improvements rolling out for it shortly and we'd love to include your input!
Enjoy your daily mix!
The Facer crew