Hello everyone. Made a new face today. Any suggestion on hand color? All other opinions as well

Looking good so far my friend, and I think the Hands would be good in a deep green colour (although I will say they look a little thin/insignificant to me). Those Tickmarks look a little too large for the Face though, just in my opinion that's all

The ticks and hands are the two things I just keep messing with. Cant find or draw anything to please me today.
@jlcash61 As Gizmo has said Ticks are a bit big but I like them . Try think about the light coming from between 10 and 11 . The will match the Default shadows on facer then . I will send you some hands in a minute . I have to size them for this platform .
Want to see the info, and want to see the hands. I liked the first ones I put on it but you couldnt see anything. Gonna have to make me some 3d see thru.
I will just flag these up .
I could make them transparent .
You could always find a way to dismiss the hands . Timing or Motion .
Doughnut hands lume dots.
Cool Thanks. Will try them now. Was try to trim down my ticks without messing them up.
Trouble with ticks they are not as scalable as hands .
My cad reduces everything a bit on Rendering I think you could afford to take those Dough Nut Hands up to 360 x 360 .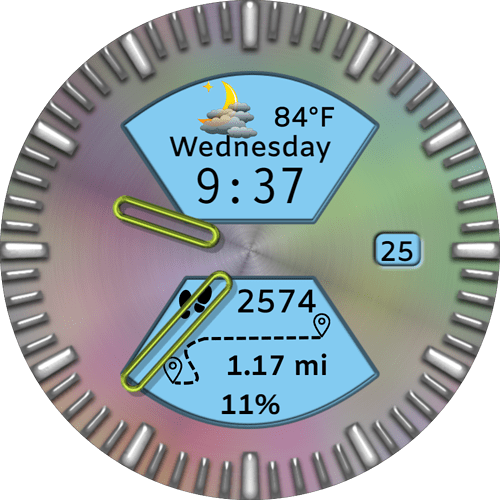 Yea and I really liked the way those looked. I been playing with my new software, when I hit the magic number that gives that shine i can fixem better. now i just took off that bavel and spread em out a little. I think it looks better any. Its posted as a WIP above so have a look when you can.
Thanks again for the hands and lumes
Yeah WIP Looks Good. Remind Me it was you who had the animated Steps Trail . Are we going to see that again ?
Yes I did. Hadnt decided for sure but most likely. I set all the light dots at 315 when I made it, Az may be to high I will go look. I want to make those opal looking ticks with some transparency so I can put a lume under them for just a faint glow
Oh yeah that would nice. May be you should think of shifting thier colour with
((accelerometerRawY())*8)
in the Opacity of a colour filter under them or whatever. So the colour will fade between the two filters from the Face being horizontal to vertical.
If you want to subtract the top colour. Try.
(100-((accelerometerRawY())*8))
Thats a great idea, I been wanting to use the accelerometer.
Those Hands look pretty cool @russellcresser thanks for sharing: maybe post them in the Resources section if you haven't already).
This Thread is turning into yet another decent educational topic thanks guys

Yeah. I think they had an outing in a Matt look. As I remember it was a joint project but I Forget. I will have a look at a Gold set as well. It seems these days you can only post 5 pics at a time. More soon.
Thanks guys. I will work on layerd tick so maybe we can light it up with motion
Nice! A person can never have too many hands. I've got to give you a hand, (pun intended) for posting these.

@russellcresser . Would you mind to look at this and see if you think I got my hilights and shadows correct. I am still going to try shimmer effect using accelerator but one advanced graphic project at a time.

I will be putting up another face soon with another trail trick