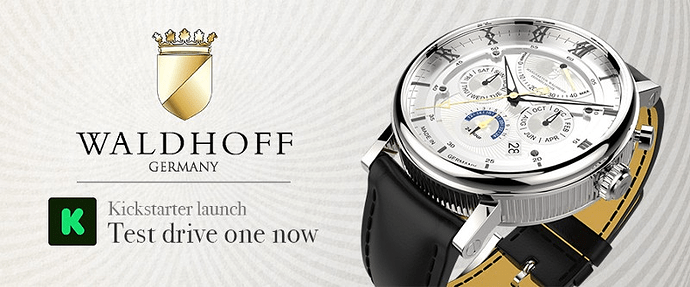 We are incredibly excited to be introducing Manufaktur Waldhoff watch faces for your Android Wear and Tizen smartwatches on the Facer platform today.
Manufaktur Waldhoff was started in 2015 by Nicolas Lehotzky, a Swiss Watch Designer, and Manfred Starck Uhren Gmbh, a watch manufacturer based in Pforzheim, to create a line of high-end Automatic watches. Their idea was to combine the skills of a Swiss watch designer with the high-tech engineering and time-tested craft of a German watch manufacturer.
To support the launch of this new watch brand on Kickstarter, Facer has partnered with Waldhoff to recreate three of their dials and allow millions of smartwatch wearers to test-drive their watches before purchasing the physical models. You'll also be able to win a real Waldhoff watch by participating in the a giveaway on Instagram!
Read the full announcement on our blog: https://medium.com/little-labs/introducing-waldhoff-watches-on-facer-b78a1afece8c