@Facer_Official - Ticket #98989
I was just working on a watch face and found out that the Imperial wind speed is broken in Facer Creator. If you set it at 4 mph on the slider it will output 9 mph to the element on the face. At 200 mph it outputs 447 mph to the element. At this time Metric is displaying correctly. I don't know if it will follow through onto the watch when you sync it but I'm afraid it will. Below is a screen shot of it set to 4 mph on the slider.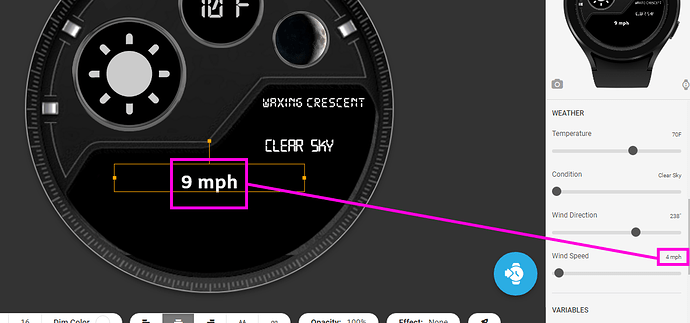 UPDATE: I just received a reply to my email informing @Facer_Official about the windspeed. This is the reply I got from them.
Oct 5, 2022, 09:51 PDT
Hello, I am sorry you are experiencing problems with Facer. Thank you
for letting us know about the bug and someone will work on fixing it soon.