Couldn't synch with gear S3 after upgrading firmware to 3.0.0.1 . It reaches 75% and stays there forever
@sihadi, Hi have you tried clearing the cache for the Facer app?
Assuming you are using Android: Go to apps and open Facer, tap storage, clear the cache NOT data, see photo: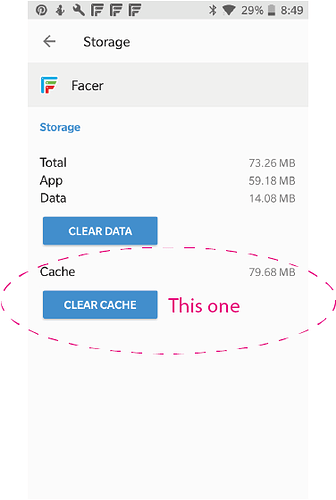 @sihadi sorry for the inconvenience! If you uninstall and reinstall the Facer Companion app on your watch, it should resolve the issue.
Just did the uninstall and reinstall now all my watches purchased are gone, now what? I am new to this facer app.
@markljohnson uninstall/reinstall on the companion app (on your Samsung watch) should not affect your purchases. If you uninstalled and reinstalled on your phone, your purchases should still be available in your Watchbox (heart icon on the bottom menu) 'Purchases' tab, as long as you are logged into the same Google Play account you bought them with.