Good morning !
I want to ask a question on the subject of translations.
How they read, in other countries the information of the day in letters ?
I would like to know, if when I use the date # DEEEE # and DMMMM # … the translations in all countries are automatic …?
I mean.
My design, here in Russia, I read them in Russian …
Does another person who lives in Spain read them in Spanish?
Does another person living in Japan read them in Japanese?
And so with all countries?
If so…
How to know, what measurements to use so that it does not go out of the measurements of the clock face, for all countries?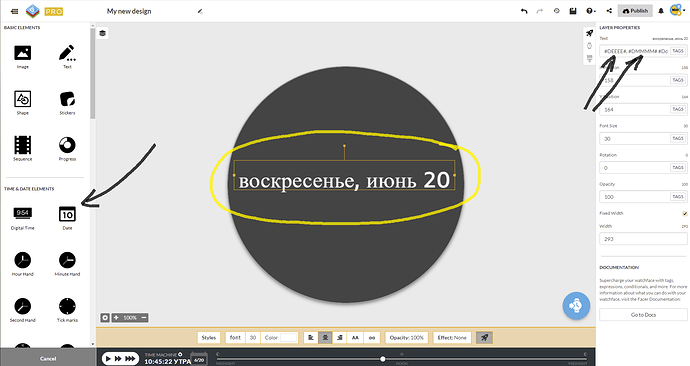 In cases, that I want people to read the date in a single language, (for example English) in any other country …
Would I have to use this type of code?
$ # DdL # == 01? One: $$ # DdL # == 02? Two: $$ # DdL # == 03? Three: $$ # DdL # == 04? Four: $$ # DdL # == 05? Five: $$ # DdL # == 06? Six: $$ # DdL # == 07? Seven: $$ # DdL # == 08? Eight: $$ # DdL # == 09? Nine: $$ #DdL # == 10? Ten: $$ # DdL # == 11? Eleven: $$ # DdL # == 12? Twelve: $$ # DdL # == 13? Thirteen: $$ # DdL # == 14 ? Fourteen: $$ # DdL # == 15? Fifteen: $$ # DdL # == 16? Sixteen: $$ # DdL # == 17? Seventeen: $$ # DdL # == 18? Eighteen: $$ # DdL # == 19? Nineteen: $$ # DdL # == 20? Twenty: $$ # DdL # == 21? Twenty One: $$ # DdL # == 22? Twenty Two: $$ # DdL # == 23? Twenty Three: $$ # DdL # == 24? Twenty Four: $$ # DdL # == 25? Twenty Five: $$ # DdL # == 26? Twenty Six: $$ # DdL # == 27? Twenty Seven: $$ # DdL # == 28? Twenty Eight: $$ # DdL # == 29? Twenty Nine: $$ # DdL # == 30? Thirty: $$ # DdL # == 31? Thirty One: $
Cordialmente! JDCardozo