how to display time with plus one hour and minus one house
like wann create strips like this
To the left of this clock face there is a small rocket, and when you press it you will be taken to the editor, where you can see how the tags you need were applied.
i dont knw why i can't see code when i go to small rocket in editor
i can see only my watch face code only
Click on the name of the watch face (Coloured Stripes), the watch face will open in a new browser tab and click on the small rocket.
Minutes + 1
   $#Dm#!=59?(#Dm#+1):0$

Minutes - 3
$#Dm#==0?57:(#Dm#==1?58:(#Dm#==2?59:(#Dm#-3)))$

Hour + 1
$#DH#!=23?(#DH#+1):0$

Hour - 1
$#DH#!=0?(#DH#-1):23$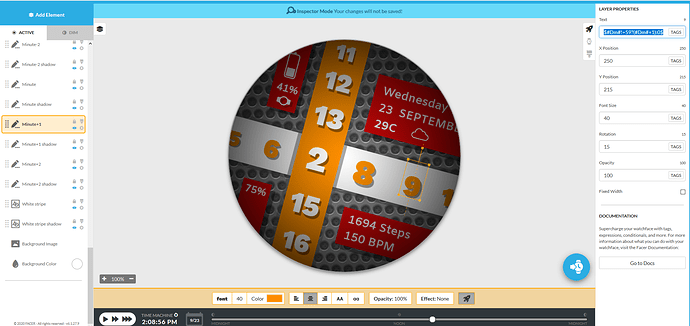 All you have to do to see the tags for the object is click on the Lock/Unlock layer.
Great Man thank you so much
love yaa…