Hello Guys,
appreciate your review on this watch face which is recently created by Me.
It is a very cute watch face , Do the weather Icon on the top work? How can you make it colour?
Very nice Sunny

. Might be nicer with the crossing going faster. But I would leave the street movement (the background) at the same speed. It gives a parallax effect.
Thanks,
john
You should come up with a night scene that is darker for dim mode.
Thanks @eradicator09 for your great suggestion:) actually, i would love to add night scene but it could consume more battery power, also since Dim mode doesn't allowed any animation so it would be only as an image, .
but sure will try to add it soon.
Thanks Mr. John for your valuable feedback…crossing speed has been faster now, appreciate your feedback, if possible
much better now Sunny. Nice

John
Correct. I was thinking more in terms of taking the background you had and making a "night" version of it.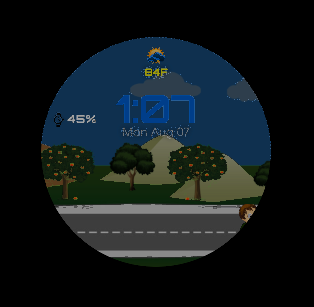 Not the greatest render, but you get the idea.
Thanks Mr. John

Thanks @eradicator09 for this, now i am working on it to add for night version.
Thanks again for this super idea.
you guys are the best


It looks like the racer with the yellow and red helmet is in front of your middle racer, need to reorder them in the creator. I love your moving back ground.