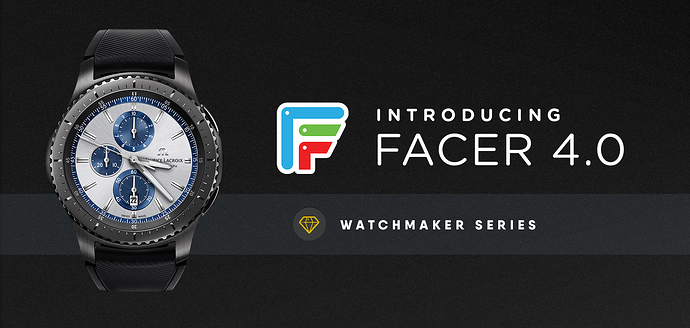 Hi all!
We're very excited to share that Facer 4.0 is now live, and introduces the Watchmaker Series - a new tier of watch faces from top tier traditional watchmakers from Switzerland, Germany, and the US. You can read the full announcement at https://news.facer.io/introducing-facer-4-0-and-the-watchmaker-series-28f4f5b8c896
This Facer 4.0 release is platform wide and introduces changes on all components. Please find the detailed changelog below:
Content
Introducing exclusive "Watchmaker Series" category, reserved to verified partners from the traditional watch industry
Introducing exclusive "Official Brands" category, reserved to verified partners from the media industry (TV, Movies, Music, Video Games, etc.)
Facer Mobile + Watch
Support for verified users
Introducing Wrist Selfies - share your favorite watch faces and your style on Instagram, Facebook, Twitter, etc.
Premium users can now show a cover image in their profile screen
Users can now link their Instagram, Facebook, Twitter, and Dribbble accounts on their profile
Facer Web Platform
Support for verified users
Major UI refresh, focused on showcasing designs more clearly and putting designers forward
Homepage updated to showcase Watchmaker Series
New dropdown on Browse Watchfaces option showing all categories
Premium collections now allow for intro videos
Premium watch faces now include a carousel of supporting videos, images, and a link to learn more about the product
New showcase view to see faces in full screen
New embeddable widgets to make sharing and/or curating watch faces on the web a breeze
New Analytics view for watch faces (premium users only)
New Copyright/Trademark protection tool (premium partners only)
New Partners sign-up page, for watch and media brands to get their brands deployed on the Facer platform
Facer Creator
New native client for Windows (out of beta)
Updated splash screen for macOS and Windows native clients to showcase designers and brands participating in the Facer platform
New Showcase view to preview watch face on screen before testing it on device
Access to stats for watch faces (premium designers only)
Note that a number of these features are only available for premium partners today but will be progressively rolled out to a broader audience in the next few weeks.
We are already working on a few fixes and tweaks to some of these features, but feel free to share your thoughts/requests in this thread and we'll do our best to incorporate your feedback in the upcoming releases.
The whole Facer team would like to thank YOU for being part of this amazing community and defining the future of wearables and fashiontech with us! We can't wait to help you take over everybody's wrists!
Cheers,
The Facer crew