Is it possible to see all the likes and downloads from a watchface? I only see the one time notification.
Welcome to the Community


All I know is that when I open the Creator, all my Faces are shown with a sync count underneath

@5ifthman . Welcome . If you go PRO for £5 a month you get Access to that Data . Enjoy the Free Ride . When you have been around awhile someone might show you some Voodoo .
On the creator page where you can see all your faces and edit them, there is the the download count and comment count. I dont know whether or how the likes can be seen. It would be interesting to see, some of my faces for sure have more likes than syncs.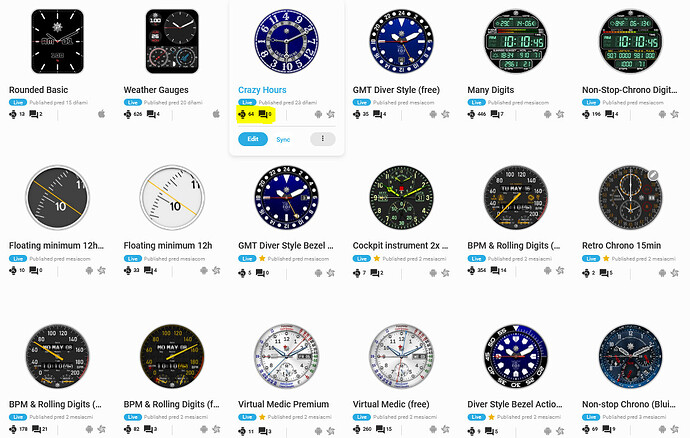 Peter your Retro Chrono 15min is stuck in Edit . You were obviously in the middle of editing it . Too modest to show us the Faces with the Thousands of Syncs . Thanks for showing us them . perhaps we should all do a Top 15 Show off . People can then see what kind of Syncs Real Faces get .
Thanks for reminding me, but meanwhile I forgot what I was about to try with that one. Anyway updated now.
I can tell you my top 7 are all apple faces. And none of my non-apple faces could accumulate 1000 syncs yet.
Actually I have more drafts than live faces

Even though I've played with lots of styles and design types, my top ten most popular are all 'Pixel Colours' or related, basically using the four Google colours.
I should be grateful that anyone likes any of my designs, and I can't deny that it's a nice feeling - but some of my own personal favourites have less than 10 syncs.
I'll still do what others like but also very much do what I like…
I don't mind sharing my stats… In February I hit 20'000 syncs, now more than double. But like Peter, most successful are my Apple faces (I only have 42, compared to over 500 WearOS).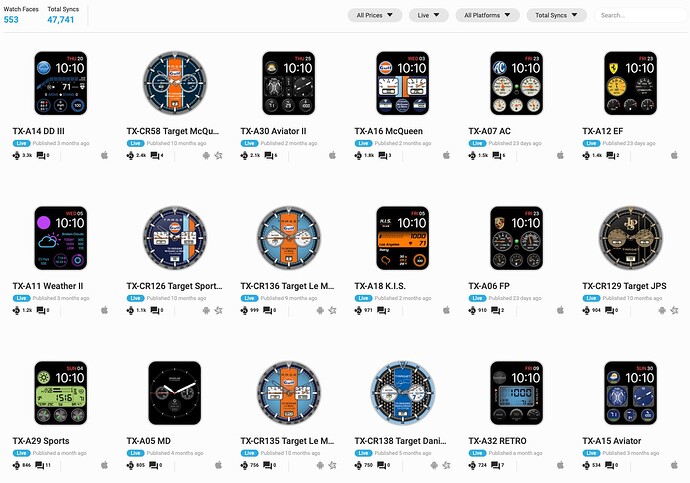 Most successful premium face is at 424 syncs: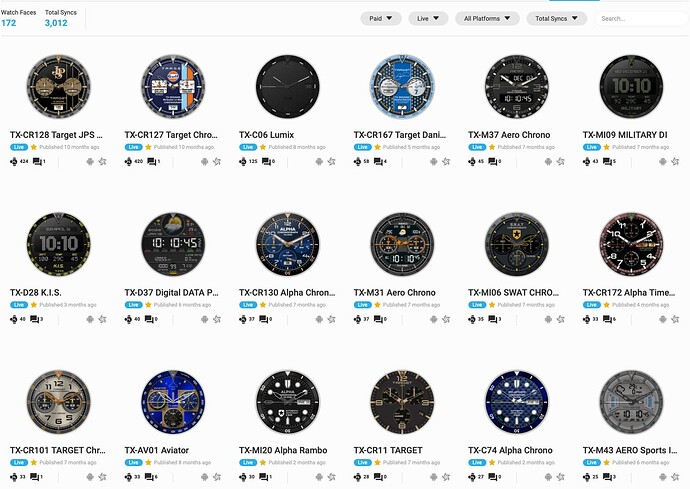 Gosh thanks for sharing @tom.vannes . I need to look at those in the morning on the big screen . Yes Apple is a good place to get syncs .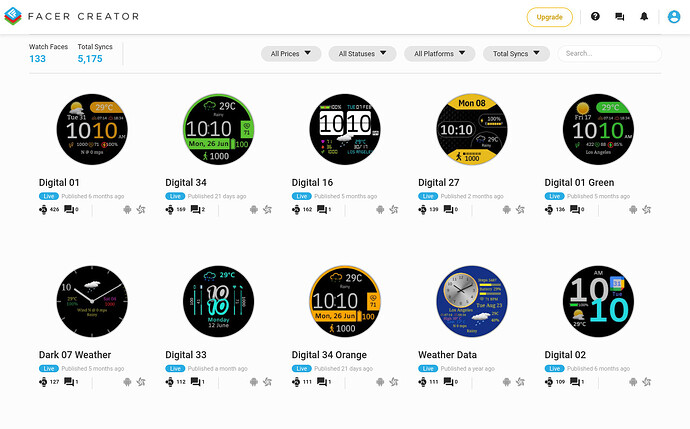 I can't get the top 15 on my chromebook, but here is my top 10.
Digital format works best for me with good colour. Not my preferences (I prefer Analogue faces) But i'm glad the Dark 07 is there as it is my personal favourite.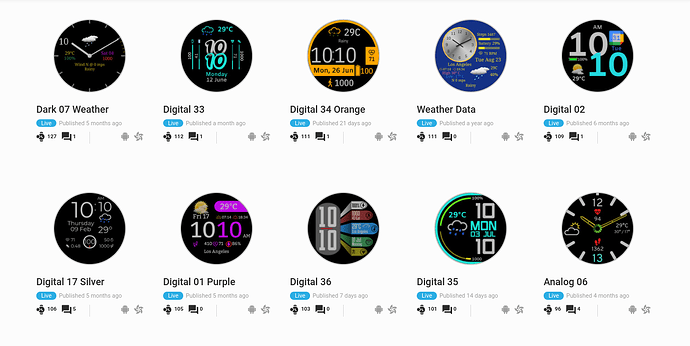 Here's the next 5
Here's my Top 15 Free - Can you see a similarity here?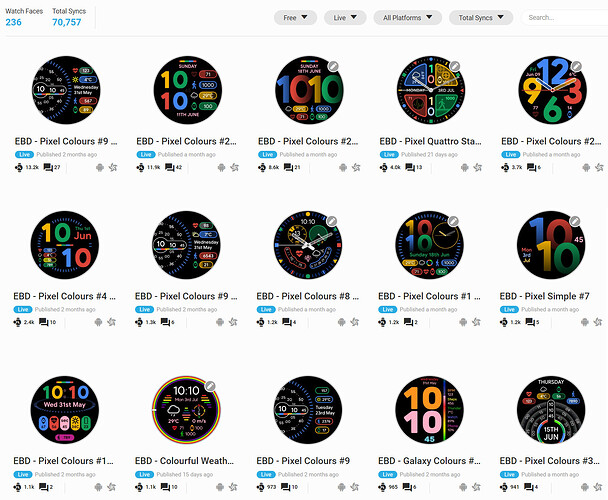 I've not been able to crack Premium at all though so I rarely try:

Oh and as the OP said, I'd love to see the Likes (waaaay more than Syncs) but I guess they're pretty transient and lost in the ether,
Hey nice stats . Well done . Your style Hit the ground Running . You have 8 Faces with incomplete Updates . Look for the Little Pencil on the right of the Thumbnail .
Yes . I am not sure what you offer on your Premiums . Colour Theme will be a bit of a contradiction . A Chrono is a Good Sell ER and Some Complications tgat Launch Apps from the Google Store wil make your Pixel Popular . Good Promo Ploy having Pixel in the Title . Sadly it might lead peolele to think you have solved all the Pixel vrs Facer issues .
I was "encouraged" by a un-named person to join in this discussion. (You know who you are.) I am NOT a great designer, but I am a darn lucky one. My average is 178.93 syncs per watchface.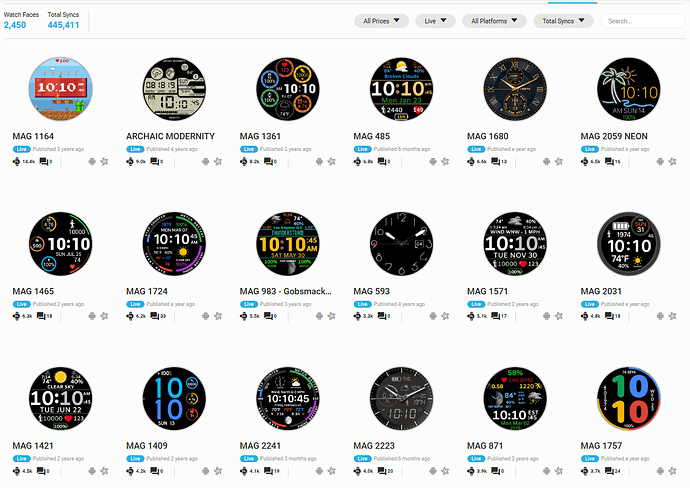 Topic Bookmarked . I hope others join in . This is Fascinating . Some Old some New .
I can't Imagine anyone Persuading someone so Antisocial to do anything :::)))
Oh the 'Updates Pending thang is deliberate. I discovered a little something when I started hitting the chart.
Users are using the App to get their faces, so when they choose one they get the face details plus 'Other faces by this designer' with three other faces. As these are the three most recently edited, you can manipulate what appears there by opening one of your faces in Creator, touching the save button, and comeing back out. Do that for the three you want, and the users will get to see the them. This has up to doubled the syncs on some of mine that were no longer the newest of the new…
aH Ha . Voodoo it is then . I do something similar but not for Individual publications . I update my Personal Favourites and the appear as the first shown on my Profile . For sure you need to use Voodoo to stay in the charts . Difficult to get back in when you have Fallen out the Bottom .
Looks to me I need to give the google colors a go

@tom.vannes Just in case you are serious about the colors.

US Brand Color Data for Google
Blue: #4285F4
Red: #DB4437
Yellow: #F4B400
Green: #0F9D58
Um… I have those codes printed out on a sheet next to my screen

…