I have searched everywhere, is anyone familiar with this watchface?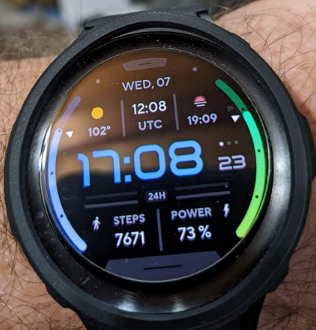 Looks like A Google Store Face to me. Those round ended Progress bars are not easy to achive on Facer. I know a Few Makers that have done stuff like that. Also the Sunrise Sunset Complication is a bit of a Give away . On Facer most show both. I do not recognise the watch I will look again.
Looks like a GW5 ( PRO ) with a protector on it. Have a look through your faces that came with the Watch in your Galaxy Weareable App.
Thank you for pointing out the Google Store differences, I didn't notice it. I will take a look over there, just Facer to me is the go to place for watch faces so I just assumed it was here. I looked through all the ones it came with and no luck.
Thanks again.
A lot of the Makers here will recognise the Style of a face and help . That one looks like the kind Samsung put out as a starter face . I wonder if Google have a FB page you could ask the question .
I have put out a call on the WFS Forum . That will be interesting .
Thank you so much I really appreciate your time!
Was I right about the Watch Model ?
Yes right on, Galaxy 5 Pro with a protector case on it.
I knew it looked familiar! It's a Google Play Store face I had seen posted in another Facebook group:
Wow!!! I even looked at that designers catalog and didn't see it. Thanks so much!
Hey Well done @kourosh . See it works . What a Community . Amazing .
BTW @paul.moline Well Done with your Debut Faces . Welcome to Facer BTW .
You are so right, I took a shot and wow it was solved quickly!!
Thank you for all the help.