I am attempting to build a face powered by a "perpetual motion machine".
Something like this GIF from the internet (but moving clockwise based on #DWFSS#):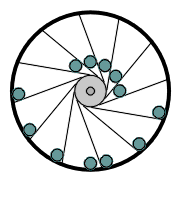 I could use a sequence, but was hoping to build it in Facer directly with each ball as individual object.
The motion of a ball can be broken down to circular rotation with large and small radius and transitions between these, plus a phase change at 6 o'clock.
I am stuck on how to implement the radius transitions. The problem is that the change is not straight to the centre. Thus a simple interpAccel for radius does not work and adding a phase change concurrent with radius change does not result in straight line movement.
Anybody up for a challenge or just a hint to get my mind working in the right direction?