Here's the scouting watchface I created for Canadian Traditional Scouting Association (CTSA).
Please let me know what you think.

Ha ha, well done Digby, you've certainly pulled this one off, it looks great: nice colours, balance, lay out, and design, you've done a great job



Good Job! Looks nice, good color palette, symmetrical and easy to read.
you got yourself a fine time telling machine
TB
The finished design is fantastic for the Canadian Traditional Scouting Association (CTSA) logo.
I would like to visit Canada sometime in my life. With the family …
My lady likes Canada a lot
Good presentation and very nice design.


It looks very practical and quick to read, very comfortable to look at !!!


I like a lot!!
Cordially JDCardozo
Thanks guys. I can't really take too much credit for the colours, other than the text as they are the colours of the association. I'm really happy with it.
I just noticed the temperature isn't showing on my watch. Any idea as to why?
Check settings in both facer app and wear os. Some of them you have an enable weather for it to work. Bluetooth has to be connected and on some phones you may have to play with battery optimization to make sure facer and wearos can work in background
Hope it helps
Thanks for the tips @jlcash61 I think it must be in my design as the temp works right for other faces, by other designers.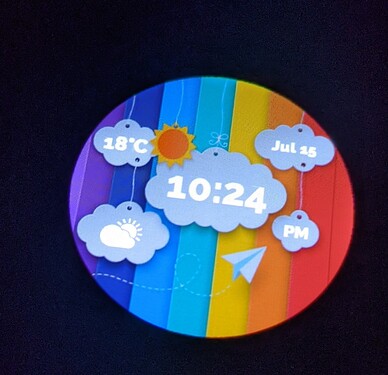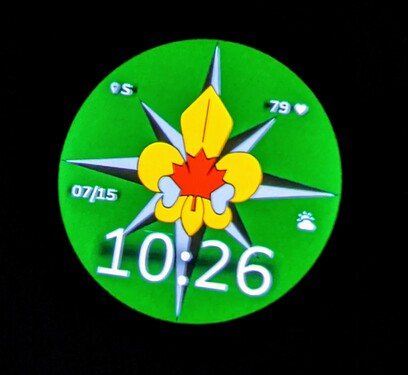 Is it perhaps because I got rid of the unit of measure?
you don't have to have the unit, I delete off mine quite often. I see the weather icons there and as long as you have an element there that has the tag #WCT# in it there and visible not sure.im going to look at with inspector mode
I just checked and the correct TAG is used for the Weather
I increased the size of the text box and it works now. Thanks for checking to make sure I coded it right.

Generally WearOS watches are more sensitive to text box width than Tizen watches are. I've had some where on the Creator and my Samsung watches it looks fine, but on my Fossil it displays partially with dots at the end. As a rule of thumb now, if an element is going to display text of any kind I just add 100 to the width automatically to prevent problems. Using the #WCCT# tag for weather conditions text if I'm going full screen across the watch face I'll even bump it up to 360-400 wide just to prevent problems from arising.