What is the code for the Phone Battery charge state setting?
Thanks for the answers.
Hi, j-ag 299 have fun
BATTERY LEVEL
CLOCK #BLP#
TELEPHONE #PBP#
Hi @j-ag299, I'm not really sure what you mean by "charge state setting". There is a charging state flag for the watch but I can only see the following three tags for the phone:

In case you have not seen it, the published list of tags can be found here
I hope that helps.
Is there a Tag for the Phone Battery Percentage Progress, like there is for the Watch Battery (#BLN#/100)? I want a Progress Ring for the Phone as well as the Watch please
Thanks ThaMattie, but that doesn't work

It only changes with Watch Battery Percentage, not Phone.
Thanks to Papaberean, here is the tag to use guys - (clamp(#PBN#, 0, 100)/100)
Works perfectly

that does exactly the same… The only thing this "clamp" does is keep it between 0 and 100, which a battery percentage already is.
I used (#BLN#/100) for watch and (#PBN#/100) for phone and they work fine on both creator and Fossil watch: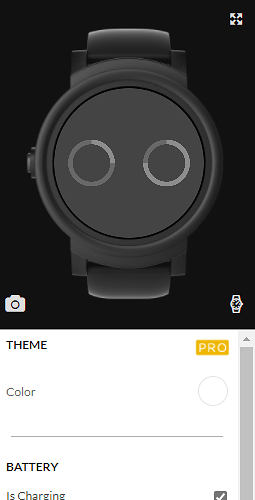 I Creator, the #PBN#/100 only moves when you change the Battery Percentage slider, not when you move the Phone Battery Percentage slider, it is only the (clamp(#PBN#, 0, 100)/100) that works properly for the Phone Percentage when I use it in Creator. Here's the Face I just created using it -
Animated Flying Superman Face
Thanks LaMattie, don't know what I was doing wrong before, but it works just fine now