This is a screen capture of my last 12 watch faces. Of course, I understand that time and a whole lot of other variables will enter into this, but I contend that digital faces are more popular than analog faces. This is excluding the hyper realistic watch faces of some of our notable Facer Partners. All I can say is for me, a digital face will be lots more popular than an analog face will on average.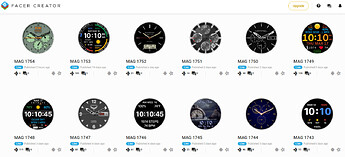 What kind of syncs do you see with your users?
Is analog or digital your highest synced watch faces?
Analog is best
Digital is best
No Difference for me