Hello, can you tell me how can I find this abstract watch face?
Welcome @januszox . I presume you mean this one . I see Hours and Minutes The minutes being the outer ring . For me I would also have a Battery Power indicator of some description . Sorry I can do nothing today but someone else might make that for you . You have obviously searched , so Have I . I have seen faces like this on Facer but can not find them Today.
See Inspectable Face I have made a start on .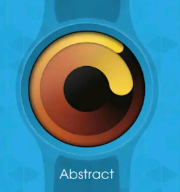 Here is my attempt (I kept it closer to the original, color wise):

Inspect is enabled.
These are the images I created for it:

Thanks a lot !!! Can you publish it? Because I can't use it…

I don't publish copies of other peoples work. But you can check mine through inspection and make your own with the image files I gave you. It's only 4 layers
You can't publish, I will use it and then unpublish? Or do you know how use unpublished faces?
updated with (darker) seconds gradient
Just to join back in . Published the Bright colours done for fun If you wan it adjusting let me know here . I respect what Mattie is saying but I published this as a fair representation for Educational Purposes . Here are the resources . Inspection is open on the publication . I think you could make one of these any colours you want in a few hours . Enjoy.
NB the resources will be a bit Ratty at 640x640 but good enough I should think . They may be a bit off centre because of the way I have to reduce them to get them here . Another update (as per request in PM). Seconds on the outside, time in the middle