Hi,
Here is the latest upload with multi color simple design. Hope you will like it.
Enjoy.
That's a brilliant design @nobel.mixed well done


Maybe make the Digital Time a little bolder, or maybe even get rid of it altogether

I am just curious, do you make hour hand intentionaly longer and more pointy than minute hand?
@petruuccios Thank you for your comments. I did mistake, sorry.
Do not worry, its easy to fix it


edit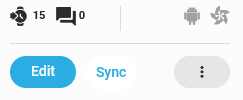 save, update…