I'm being followed by 4 porn bots now, welcome fake profile Ashley #2.
I just got notified of that account following my private account and reported her/him/it as a spam bot.
Got a nice low one .
She can not be a Bot as You have to select 3 faces you are interested in to get through .
Their selections are Interesting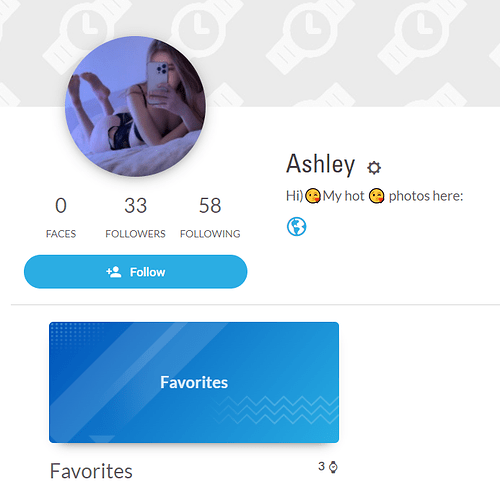 .
No they are not bots, I just like to call them that because they are annoying creatons - - whether it's online, via text, or via phone: they are a nuisance. And not much appears to be done about them, they keep flourishing.
I used to be a member of another discussion forum (tremendously larger than this one) where things like this were taken care of by a select group of the members including myself: Spam shows up, and almost immediately it is taken care of.
Yeah I report them Imidatly to Facer. Of course they are busy but the more we report the better. Shame they are being Followed but that is probably part of the scam. I am very pleased I trapped Ashley again quite early on.
I uh, what?
Why would anyone assume you clicked the link? It clearly says xteen and see my private photos. What else would it be? Anyone who clicks those are the people buying 'tech support' iTunes gift cards to fix their computer.
Right after I made the first post I looked at my followers to block or something and I still had 0 but her profile still existed. So, they add and remove themselves to hide better or what?
My sentiments exactly. But some people have to be a Negative Nelly and make unfounded blanket statements.
Also how do you know their location or was that a joke about hot teens in your area ads?
Hi there! yeah, I'm also reporting everything I see, and the Facer team si working to block and prevent those kinds of bots accounts.
Yeah. Well Done. As my Dad used to say. In polite conversation we don't talk about Sex Polotics or Religion. So not much more left than Football and Watches. Trouble is I am not into Football.
Weird, i got this new notification too, she's at almost 1800 now
But, when i go to my profile it says i have no followers.
That spambot followed all three of my accounts. I reported it three times once for each account. They may have already removed it by now.
I report them as soon as I see them . Follows are a bit of a Mystery sometimes . You defiantly on WOS not the Apple Pages .
Are the reports amounting to any action? All 4 of my porn-stalkers (whom I'm stalking in turn) appear to still be alive and well in the app.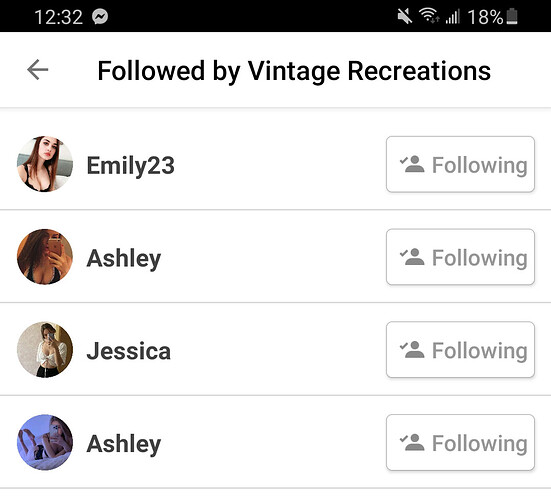 Be good if they trotted out some new Profile Pics I have seen all of those .