Didn't expect to get porn spam bots but here we are. Notified that this person started following me.
Happens all the time I'm sorry to say.
I have three different Facer accounts and that spam bot followed all three of them.

Same, and im not even a creator.
Be careful though, complaining about it will get you wrath and called Pervy by another user
lmao Tom

I saw that. Now you are one of us "bad" people.

Emily and Ashley
sitting in a tree
S-p-a-m-m-i-n-g



It's good to be the king.
It's even better to be the clown.
Humor keeps the soul young.
Tom I'm not either, but I have commented on some. Usually to help the creator know what it looks like for me so they can make adjustments if wanted since not everyone has access to different models.
There are a few of us, sadly i assumed you were, shame on me.

So we have end-users, curious non-creators, creators, unpublished creators, and porn bots. That covers all our types?!


Almost, you just forgot one, the "I'm trying to install Facer on my cheap Chinese watch and it won't install, please help me" type.

Yes, the "uninitiated end-user" to keep it polite!

Thanks guys, Facer is working on it! I think those girls have been removed!

Thank you for the update Sir
Just a heads up though
Ashley is still in my notifications and i can still get to her profile from it in the App on my phone
HOLD THE PRESS!!
Not only are Emily and Ashley still alive and well on the app, another one of their cousins, Jessica, just reared its ugly head to follow me.
And before ANYONE shows up alledging that I have clicked on these links, rest assured that I have NOT clicked the links of ANY of these fake profiles, nor do I even NEED to click on them to know what they are — common sense and a simple glance at these fake wretched Facer profiles is enough to instantly know what they are. Period.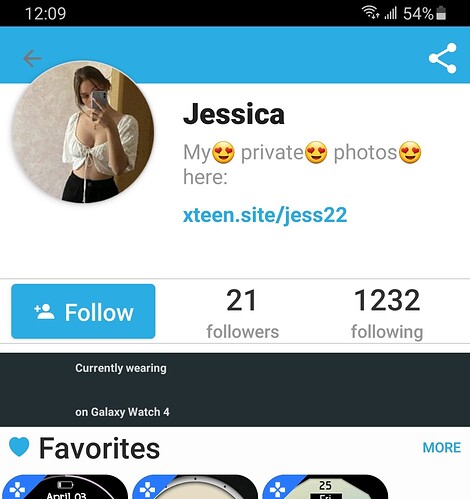 Please do not Block or Report her she looks really nice. !!
Genraly if someone Follows me and I see they are Makers I follow them back. I am surprised how many Followers She has, may be some are running Follow Bots for some reason I can not understand.
FACER is very keen to take these down. They can not monitor the whole site all the time and they are very quick to respond to them being reported.




Another 27 followers and following another Thousand or so since your Shot.
I am starting a contest.
The shot with then least Following is The winner .
The obligation is to Report and Block the user at that stage .
I am gob smacked they bother to select a few Favourites .
Or did we have to do that to join I forgot.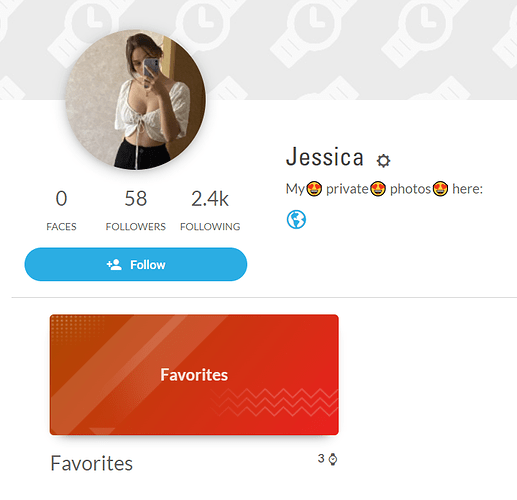 Jessica is up to 90 followers and 2906 victims.
All Facer has to do is search their user database for the "xteen" link, to catch the entire pornbot family. They're 2 miles from my mom's home, I visited her today and I'll be there again on Monday-- I ought to go knock on their door and yell "YO!"


Jessica just went up another 3 followers in the time it took me to write this.
I hope you do get round there one day. I will be very Intrested to know how many Teens actually live there.


I reported that one but it does take a bit of time to take it down. I did ask if they wanted me to continue my input. I bet there are many other than the xteen site.