hi, i have create a tick mark that is a circle that is open on the right bottom side (like the picture).
i have add fixed temperatures (celsius) that start from -5 and finish to +40.
the formula for the hand i have write is:
(-180+(#WCT#WM#*2.7))
but i think it work only if i count 0 to 100, like for battery.
can someone explain me how to write the right formula
for have the right temperature signed by second hand ???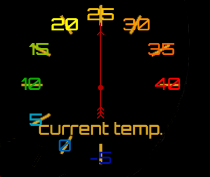 thank very much.