Hi There,
I was thinking to publish one more statistic this week about the highest followers growth from all tracked premium & featured Designers*
(TOP 10 excluded according to inexact data base at designers with more than 1K followers).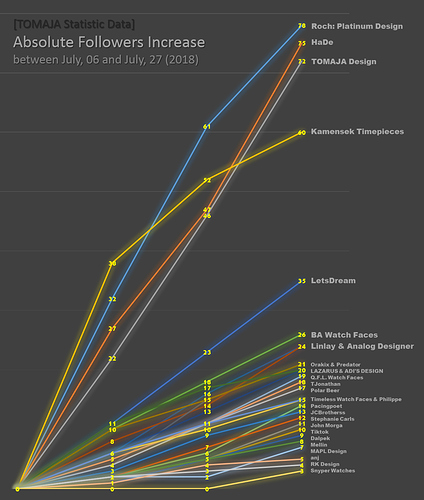 Absolute Followers Increase between July, 06 and July, 27 (2018) in an overview table:
78 Roch: Platinum Design
75 HaDe
72 TOMAJA Design
60 Kamensek Timepieces
35 LetsDream
26 BA Watch Faces
24 Analog Designer
24 Linlay
21 Predator
21 Orakix
20 LAZARUS
20 ADI'S DESIGN
19 Q.F.L. Watch Faces
18 TJonathan
17 Polar Beer
15 Timeless Watch Faces
15 Philippe
14 Pacingpoet
13 JCBrotherss
12 Stephanie Carls
11 John Morga
10 Tiktok
9 Dalpek
8 Mellin
7 MAPL Design
5 anj‍
4 RK Design
3 Snyper Watches
---
*Here are all listed designers I'm tracking at the moment: TOMAJA Design, Timeless Watch Faces, Predator, Analog Designer, BA Watch Faces, Roch: Platinum Design, Polar Beer, Pacingpoet, LetsDream, Kamensek Timepieces, LAZARUS, JCBrotherss, Dalpek, Linlay, MAPL Design, Tiktok, John Morga, Snyper Watches, TJonathan, HaDe, RK Design, Mellin, anj, Stephanie Carls, Orakix, ADI'S DESIGN, Philippe, Q.F.L. Watch Faces
Excluded TOP10 Designers: Tactwo Tactical, GRR, Waldhoff, tr0n09, MVMT, G7, INMotion, SWF, GAUSS, wutronic
---
Disclaimer
This unofficial TOMAJA Statistic Data based on the total followers number of featured and premium designers at the Facer platform. Please enjoy this date carefully. If you know somebody, who actually should be in the ranking, please just write a comment or a private massage me and I will add this designer for the next TOMAJA Statistic Data post.