Hello there!
here is the new fresh TOP** 10+ compared with the last published one from August 2018.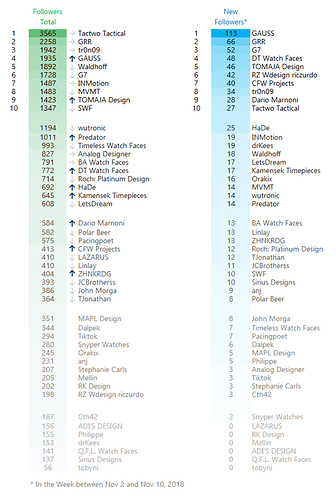 **Here are all listed designers I'm tracking now (Nov, 10; 2018):
Tactwo Tactical
GRR
tr0n09
GAUSS
Waldhoff
G7
INMotion
MVMT
TOMAJA Design
SWF
wutronic
Predator
Timeless Watch Faces
Analog Designer
BA Watch Faces
DT Watch Faces
Roch: Platinum Design
HaDe
Kamensek Timepieces
LetsDream
Dario Marnoni
Polar Beer
Pacingpoet
CFW Projects
LAZARUS
Linlay
ZHNKRDG
JCBrotherss
John Morga
TJonathan
MAPL Design
Dalpek
Tiktok
Snyper Watches
Orakix
anj‍
Stephanie Carls
Mellin
RK Design
RZ Wdesign riczurdo
Cth42
ADI'S DESIGN
Philippe
drKees
Q.F.L. Watch Faces
Sirius Designs
tobyni
Disclaimer: This unofficial TOMAJA Statistic Data based on the total followers number of featured designers and premium designers at the Facer platform, as well on the subjective selected designers. Please enjoy this date carefully. If you know somebody, who actually should be in the ranking, please just write a comment or a private massage and I will add this designer for the next TOMAJA Statistic Data post. Thank you

.