Hello There,
UPDATE [Comparison TOP 10 from January 2018 and June 2018]. Let' have a look into the unofficial actual TOP 10 of (Premium) Designers first.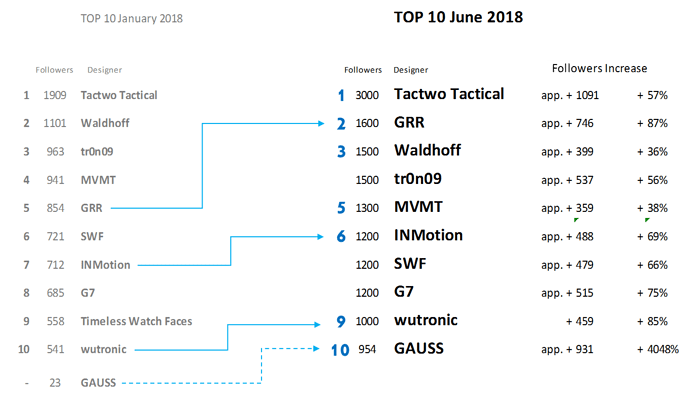 As you see, there are no exact public data available for the designers, who already have more than 1000 followers. Therefore, it is also very hard to guess, how high is the followers growing rate of those.
However, here is a precious diagram of the relative followers growing rates (designers with more than 10%) according to the last month*.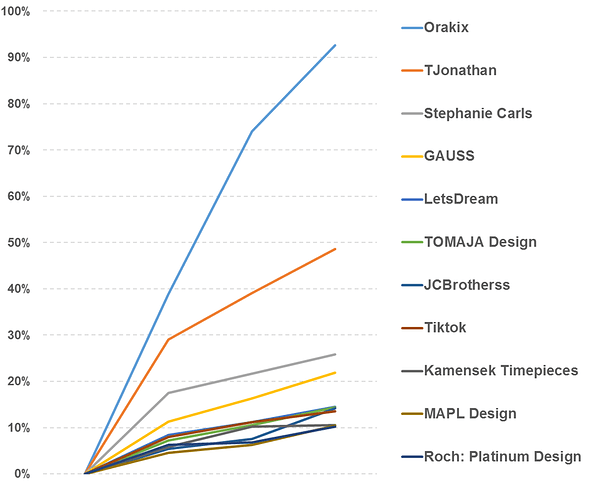 *Designer pool I do track (followers & total watch faces number): GAUSS, Timeless Watch Faces, TOMAJA Design, Predator, Analog Designer, BA Watch Faces, Polar Beer, Pacingpoet, Roch: Platinum Design, LetsDream, LAZARUS, Dalpek, Linlay, Kamensek Timepieces, MAPL Design, Snyper Watches, JCBrotherss, John Morga, RK Design, Tiktok, Stephanie Carls, Orakix, TJonathan, Mellin. Excluded TOP 9 Designers with only approximated followers number: Tactwo Tactical, Waldhoff, GRR, tr0n09, MVMT, INMotion, SWF, G7, wutronic
**time between May 26, 2018 and June 23, 2018
---
I you know some another designers I should tract or you wish to be at my unofficial designer list please just let me know in comments or write my a private message

thanks