just some fun with vertical fonts , for personal use and educational puorpose only

Personally, I would slow the background down some or put in a Matrix .gif animation. After that I would leave the rest as it is and publish that one!
thx for tips ,slowed animation but no gif , on ticwatch gif lag too much, take the occasion to let link for new vertical font
The background speed is right on now! Now you need to publish it.

Awesome idea. Vertical fonts were made for that.

Looks great, well done, I'd remove the colons ( : ) between the Time Elements myself though, I think they look strange on their side lol
@alsx65
Now that @icrltd4 mentioned it…Maybe substitute the negitive sign in their place. That would be the same as a dash mark between each group.

Glad you like guys and focus on tips,damn the coloumn i forgot to center them when i rotate the fonts in fontstruct

, i'll go for a negative sign .Btw it will pubblish only if you want sync it to test if gw4 run smooth,on ticwatch works fine
Brilliant work . The second one is more Readable for me . Why are so many people doing Matrix stuff .Is it an anniversary or a New Film out . Thanks for the fonts .
Newer film was out recently @russellcresser yes…

Matrix Resurrections

Sadly, not very good compared to originals though
I even made a new watch face based on the new Matrix movie. MAG 1662
Cool . I like that one . That was a Few Watches ago now then . ::))
I want to thx you all guys for tips suggestions and support ,. I think is a good thing share the syncs numbers after 3 weeks since i consider it a team work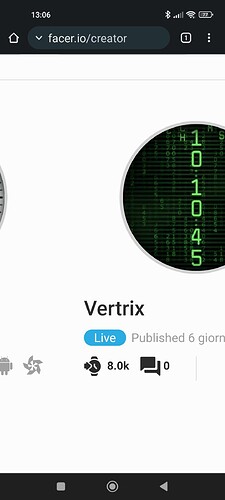 Many thx
Wow.


I can only repeat that. Wow. And congratulations.
My all faces together only recently reached 10k

(and 8k of it was from apple)
Lol you are a Samsung designer secret agent




they keep you hidden




When you mention GWD, it has its own pros and cons. The worst thing is, it has been discontinued.
So I spy for a forgotten empire


WOW!!! Sometimes the stars line up and this is surely one of those times. Congratulations on the fine work and response of the end users!!!