I'm new to this and i was wondering if anyone had hints or advice on it . []
Welcome to the Facer Community Brandice


that's a really nice design for your first Face, well done

There's lots of helpful people here if you ever have any questions or problems ok. There is a section where you can download extra Hands and things here as well, it's right HERE
Just have fun designing whatever you want Brandice, and if you get bored, have a little search around the Community, there's loads to find and learn

You can add your own as individual images like this -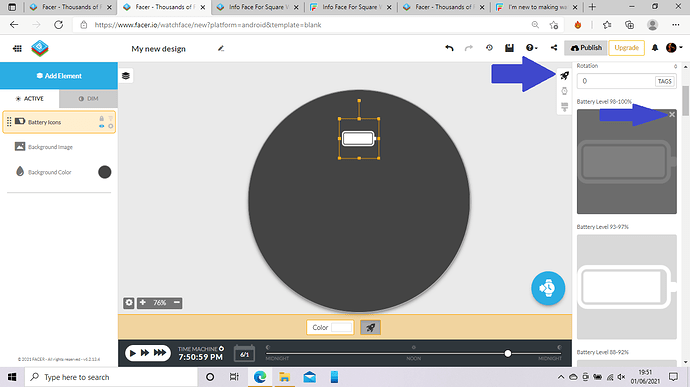 Tap the Rocket Icon and then scroll down to see the Facer Images, you can then delete them and add your own.
Or you can use the Progress option, and place it behind your own image -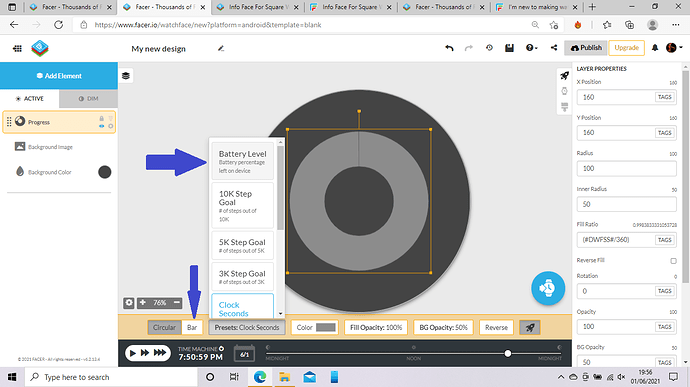 Here is a Transparent Battery Icon you can use if you want to ok, just resize it to whatever you want -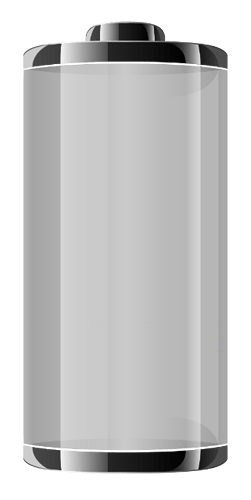 where do i find different battery images?
Welcome @brandice1!
I see you already have a nice collection of watch faces. Keep it up!
thank you I'm still learning . I'm trying to find new battery and heart rate icons
You can Search here in the Resources, or look on your Browser, Bing, Google, etc, for Transparent Battery Icons in png format (Transparent so there will be no background).
I will do that and see what i can find …thank you
Very pretty designs! The only tip I would add when it comes to searching for resources is to make sure that you own the images you use. Either you have created them or you own the license to use them per terms of each image site. Image sites may require that you give attribution. Just to be safe I usually do that for any images that I do not paint regardless of whether it is required or not. In addition, some of the "free" image sites specify that you may not use their images as a main image - as opposed to an "element" such as watch hands or small decorations. Examples of those sites would be Adobe Stock, FreePik, etc… If you are not sure, in order to be safe it is good to contact the image site to ask them. It gets confusing because even though you may consider your designing personal use and your watch faces may be free, Facer is a business. If you take an image from Pinterest, you need to go to the source of that image. Links such as these may be helpful as well as info on how to contact the company. Other image sites have similar.
Facer's Terms of Service are here:
A very delicate and original design. Nice job!!!