could you tell me your opinion so I can improve
I congratulate you on your first job .
it looks very attractive .
In particular, I really like the combination of colors and their palette range …
A single comment, with all due respect … particularly me, would regulate the size of the numbers and letters (the ones that are small) … so that the information is readable quickly …
In general …
Fantastic idea
Cordially
Hello, I guess I can not tell you how to improve, I will just tell you what I would do different.
-The seconds with 1/1000 is rather busy and distracting to me. I would use leading zero and align the text to left. Or use mono-type font, or completely omit the decimals.
-The minute progress bar in top is actually redundant to the seconds number, I would rather made battery indicator of it.
-When using whole day/month names, I would choose font with support for multiple languages with diacritics.
I do not know what the number above the persons image is. Steps?
thanks a lot for your words
I just Updated it
thanks for your words
actually its should be a battery
i Just Updated
This one s an interesting design the weather thing is a bit small and hard to see on my watch but all in all a interesting design
Beautiful work, I like it.
Personally, if I may, I would change the font for the time to make it look more harmonious.
The font I use is: Bad Grunge Font
And change the size of the steps, for readability.
I would change the yellow to #f0b622 for a more harmonious colour balance.
See example image.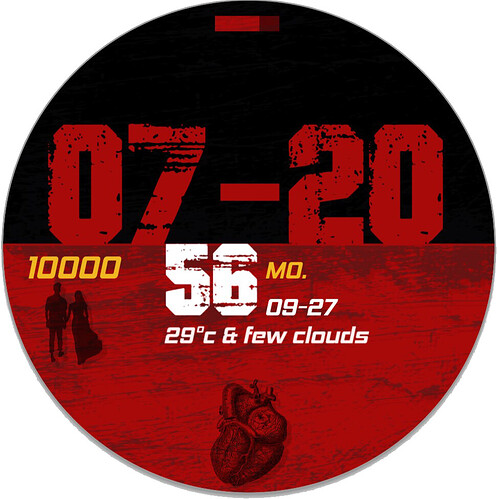 All looks ok, bit confused as to why you used those 2 Stickers though, a heart and a couple?
Thanks for your reply, actually I am trying to keep the empty as possible maybe i have to change the font
Thanks for your suggestions , its much better, i thinks especially for readability and harmonious
For couple i just st want to change. always feet, one guy or lady as a walking stickers. Fir heart it's simulate your actual heartbeats i didn't put numbers to keep it clean. I don't want to add more elements