Design #6 in FlightSchool, coming soon:

Just finished working on the banner for the collection once its done: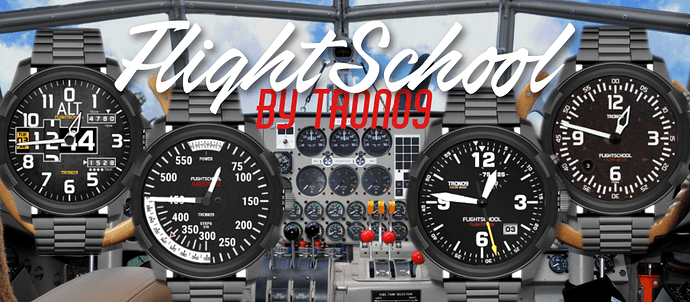 Great watch face and i love the stylish Banner!!
Cool series, @eradicator09!
Some feedback on the banner to make it better:
Lots of stuff going on, making it hard to see the stuff that matters: the faces, the title, and your brand
I'd recommend darkening the background so the rest pops more
I'd put your icon/brand since that's probably how most users recognize you today on Facer
I think I had all the same thoughts after posting it. I tried out several backgrounds and this was the latest version, but I forgot to darken it some. I was trying to find the trade off of being bright and colorful, but not too distracting. I did a drop shadow on the white text. Maybe if I blur the background a little it would come off better as well. I'll definitely put my icon back in as well. Was worried the style was a little off since its sci-fi ish.
Banner version 2. Darkened up the background. Added a slight blur. Increase darkness of drop shadow on FlightSchool text for more contrast. Added my Tr0n09 icon.