According to Chinese legend, only the strongest and bravest koi could swim up the Dragon's Gate waterfall to become dragons, symbolizing the strength to surmount great difficulty and live your dreams. In this design, the koi follows the hour while the pearls follow the minute and second. (Koi by Stephanie Kriza)
Tags: Legend+Lore Stephanie Kriza art watercolor nature animals fish koi pearl grit heart duality animated 心
Comments and feedback welcome! This is my first hybrid watch face, which blends analog and digital elements.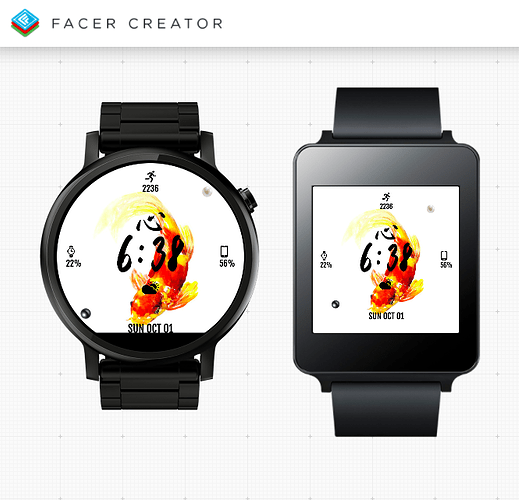 Edits:
Added Dim monochromatic Minute hand.
Added Active Hour hand.
Added Dim Hour hand.
Moved Weather Icon.
Lightened Dim monochromatic Minute hand.
Added Summer Hearts font by Jeremy Vessey.
Replaced monochromatic with tinted Dim minute/hour hands (koi & pearl).
Enlarged Weather Icon.
Shifted Weather Icon.
Replaced Koi graphic to accommodate rotation on rectangular screens.
Moved Day/Month/Date.
Added Step Icon.
Moved Step Count.
Changed Watch and Phone Battery font.
Added Active Second hand.
Shuffled Analog graphics.
Added Temperature (Dim side only).