Samsung - Gear S3 Frontier / Classic - Chronograph+ (watchface/stopwatch)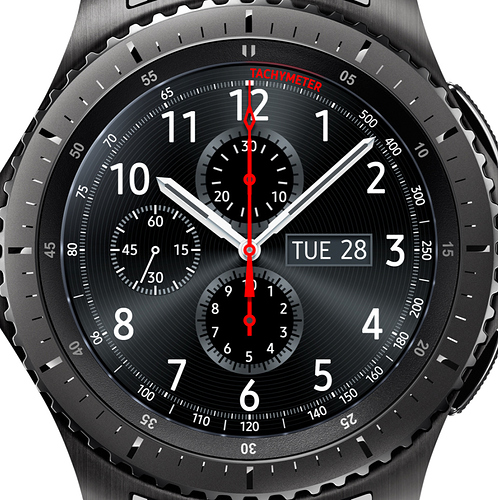 ---
Watch:
12 hours (main, 12 minute step)
60 minutes (main, 1 minute step)
60 seconds (small, left, 1 second step)
Stopwatch: (activate with 'stopwatch' icon)
sweep seconds (main)
30 minutes (small, top, 1 minute step)
10 hours (small, bottom, 10 minute step)
(superseded) see below
---
Questions:
Should the main seconds hand just sit on vertical (when not used for stopwatch)? YES
How big should the icons be? Where should they be placed? What colour, level of contrast (against coloured background)?
I redid the Tachymeter scale, using my own maths. Is it now correct? (It does NOT match original.)
---
UPDATE:
Changed seconds sweep hand, to ONLY stopwatch usage.