I just published this Apple Watch face. I would like your thoughts and opinions on it.

You could use an AM/PM indicator to go with the time. It looks complete without it, because the sunrise/sunset both have one.
I don't have an Apple watch, so I don't know how it looks, nor do I know what kind of flexibility you have.
The watch looks okay - the spacings look a bit random. If it were me, I'd tighten up the spacing of the wind/high/low temps, and figure out a different way to implement the sunrise/sunset, so that the spacing was consistent with the rest of the watch.
Did you try this on an Apple Watch to be sure the analog and digital time are keeping time together accurately?
Did you test it on real Apple watch? I didnt. So I am not 100% sure how it works, but from multiple indices when I tried to add anything else than background image, after like 2000 downloads and like 3 negative comments I assumed everything was blended into one still image and did not work. So I rather removed the face.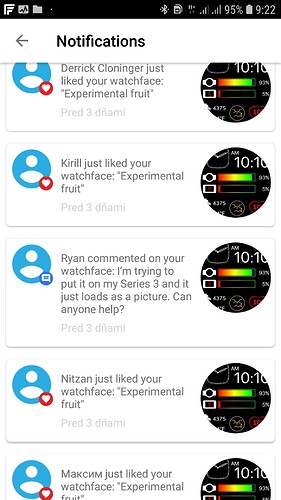 You really need to test Apple designs before they are published. It's better than receiving negative comments and having to remove a published design.
That is the reason I own both Samsung and WearOS watches. I would post watch faces and get complaints that parts of the face didn't work on WearOS. Now that I can test on both I don't have near as many negative comments.
Sorry to be the bearer of bad news, but apparently absolutely nothing works on Apple except for a plain photo…

I don't have an Apple Watch so the only way I could test it was in the Creator.
I've already got 109 downloads. So should I delete the watch face?
I deleted all my animated ones yes (apart from one), and I only Publish simple Faces for Apple now, just with one Photo.
To answer your question, that's a nice looking design, but you have multiple comments stating that it does not work. I suggest that you remove it before more people try to sync it and are disappointed. It is important to test your designs before publishing them. All the designs created by Facer Creator Partners are tested before they are published.