Hello guys! I share with you a collaboration initiative of GRR with the mobvoi brand that owns the Ticwatch watches!
I thank everyone who syncs and tells me their criticisms and suggestions to improve the faces in new updates!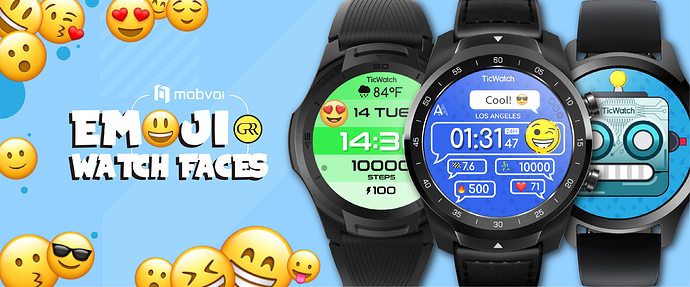 Need motivation? Emoji Walkie-Talkie encourages you to get off the couch and establish a walking for wellness habit!
12/24h
Location
Distance miles/km
Step count
Kcals burned
Heart rate
Battery % level
Emojibot takes you into the world of circuit boards. Learn how to control your robot today!
12h/24h
Gyro effect (with wrist movement)
Weather
Step count
Heart rate
Date
A playful watch face you don't want to miss. Emoji Hide 'N Seek keeps you from getting bored!
Date
12/24H
Battery % level
Step count
Weather
Gyro effect (with wrist movement)