Well here's my submission. I didn't get to do everything I wanted to do with it but time is scarce with a newborn. Still super proud of it though. It really shines on the watch and not in the creator due to the motion sensor lighting. I hope you all enjoy it.
The Victory V1 - Flat Black watch has elevated the Orakix stripes to the next level. Today I've taken this realistic face and raised the bar even higher for the Mobvoi/Ticwatch contest. Victory V1-FB Ultra Realistic received a huge overhaul adding even more realism yet still maintaining it's elegance. The 3D look now has realistic lighting that moves with your wrist and highlights the edges creating a beautiful and timeless watch. The lighting on the hands even move to more accurately reflect the light source. Equipped with an analog battery meter for both your phone and watch, a day of the week dial with the date, and a battery friendly dim screen with not one but two low power modes. At 15% battery power it turns off the motion sensor lighting for a static image and at 5% it forces dim mode to keep you going as long as possible.
This is a preview of where "most" of the motion lighting takes place, all the red parts.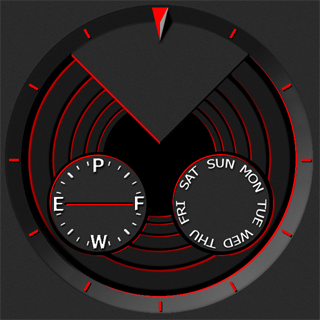 I've only ever tested on my watch so if anyone would be interested in testing it out and giving me any feedback it would be greatly appreciated.
Cheers,
Orakix