Im using the #WCCT# tag to get the current weather coditidion.
My problem is that what the editor shows and what appears on the watch does not match.
Could this be a setting that Im not seeing? Maybe the editor uses apple watch, and doesnt match up 100% with my android wear? Or could be something else?
This is what the editor shows vs what my watch shows: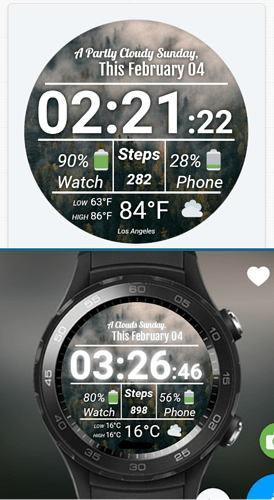 In the images A Partly Cloudy Sunday vs A Clouds Sunday.
This probably wont be very helpful, but hey first post im trying to give as much info as possible. Inspect the watchface.
Honestly is not that big of a deal, I can fix it by just adding a bunch more of text to display for each condition, but I want to know if there is a less buteforcy method.
Thanks for any help in advance.