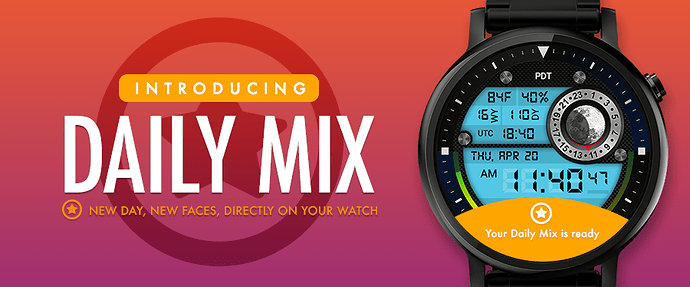 Good morning Samsung Gear S2 and S3 users! We are very excited to be releasing v3.1.4 of the Facer companion app for your watch today! Lots of goodies in this new version:
Introducing "Daily Mix" - new day, new faces, just for you, and directly on your watch! Every morning, just triple tap on your watch to access your mix, and spin it until you find the face that matches your style for the day! Fun!
New AOD options: a new setting screen accessible via triple tap now offers two AOD options: "Dimmed", which shows a darkened version of your face to save battery, or "Classic", a stripped down version of the face in full brightness.
Bug fixes and optimizations
We're very excited to be offering Daily Mix to the Samsung Gear S2/S3 users today and would love to hear your feedback on this feature and anything else you'd like to see improved in Facer.
Enjoy your daily mix!
The Facer crew
PS: Android Wear users, we did not forget you - the Daily Mix feature will show up on your watch in just a few days! And it will be delicious!