Hi all!
As some of you reported, there is currently an ongoing issue affecting WearOS users connected to an iPhone. The symptom of the issue is getting a "SERVICE_NOT_AVAILABLE" error on your watch when trying to activate its QR code. Unfortunately, this prevents some of you from connecting the iPhone app to your watch and syncing watch faces.
We have been working on resolving this issue for a while and now confirmed the issue is caused by a recent update of the WearOS companion app on the iPhone. We are working with Google to get this addressed as soon as possible and will update this thread as soon as we know more.
Update Dec 27th: Google confirmed a fix is on the way but was delayed by Apple's holiday shutdown (no app could be update from Dec 23rd to Dec 27th). While we cannot confirm an ETA at this point since the fix is in Google and Apple's hands, we are hopeful that the update will be available in the next few days. We will update this thread as soon as we know more and have a specific date.
Update January 11th: Apologies for the delay, we have been informed that the fix has passed internal testing and should be available in the App Store shortly. No specific ETA because it's now dependent on Apple's approval process, but likely to be by early next week. Thanks so much for your patience!
FIXED: Jan 17th, 2019
Hi all,
We're happy to share that Google's WearOS update is now available in the Apple App Store for your iPhone. The version is 3.11.27: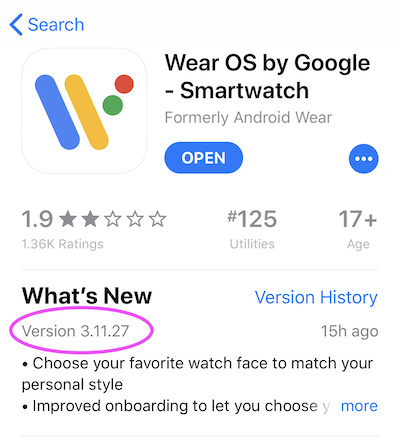 Please make sure you update to this version, and then reconnect Facer to your watch. To do that:
On the Facer phone app, go to the Settings (top right icon in Featured), and hit reconnect Watch
On your watch, 4x tap on your Facer watch face to bring up the QR code. It should now show up properly, as long as you have updated to WearOS 3.11.27 on your phone.
Scan the QR code from the Facer app on your phone
Enjoy Facer, at last!
If this issue prevented you from enjoying Facer Premium, please contact us at facer-support@little-labs.com and we'll do our best to make it up to you.