Give your feedback on the Facer Creator here!
I'd like to be able to see my pending approval watch faces in my profile page, and not just on the editor page. It doesn't feel intuitive to me to go to the editor to view things i've already created and finished.
The reasoning here was that we wanted to keep the main website as clean as possible, and behaving like an App Store, i.e. only showing publicly available content.
Maybe if we had a link to your watchfaces in the Creator from your profile page, would that be enough? Or you still think it's counter-intuitive?
If I want to create original images in an ai or psd what dimensions should I use?
I'm running into an issue when using division in conditional statements. In a text box, I'm typing $(1/2)=1?Good:Bad$ and I get a blank box where I expect to get "Bad". Is this a bug or am I missing something?
Hi @skipnyip! Can you share a screenshot of the issue you're having? we'll investigate ASAP!
I might have another one for ya. The tag #DH# is giving me the leading zero. If I'm correct, #DH# is the 0-23 no leading zero and #DHZ# is the 00-23 leading zero.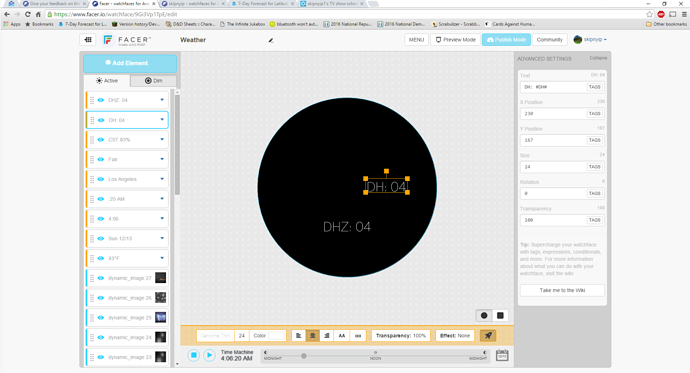 Animated Gif support for background images.
Is there any way to resize the background image? I can't seem to manipulate it after import.
When should we see an updated version (that works correctly with the Moto v2)? The web interface is interesting, but frankly, I want to make faces for myself, not others, and I'd rather do this from my phone while out and about for the most part.
@maddpiratekidd: definitely on our list! Do you have any sample watchface that you've seen with GIF backgrounds that you liked?
@dickie: Resizing/Moving the background is disabled currently but we've discussed enabling it. The main intention here is to prevent people from not having a background at all, or having only half the background visible, etc.
The Android app is going to be updated very shortly to support the new watches, along with a number of new exciting features. Stay tuned!
@skipnyip Thanks for the note, you're totally right. This is now fixed.
Just tried the Creator and must say it is very nice!


I've found an issue regarding the letters ÅÄÖ. (for example ÖVER)
I save the draft and quit the creator. But when entering the editor again the letter has changed.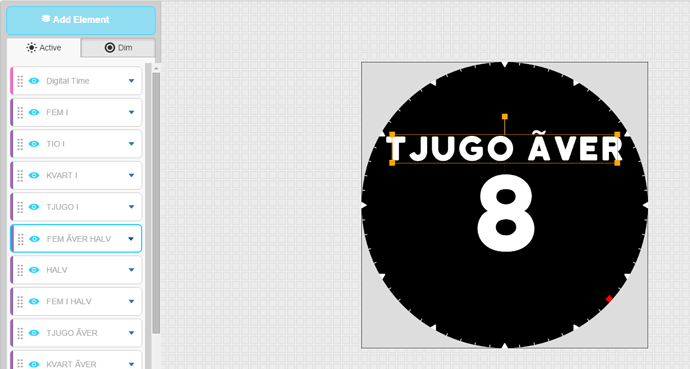 It looks better on my phone and watch, but instead of "ÖVER" it says "Ö VER".
Am I missing something or is there a workaround maybe?
EDIT: I had to erase the whole text, then type "över" (small letters) then choose CAPS within the editor. And do this every time I edit. But works great on the watch!
Im happy!
@sweak We're very happy to hear that you like using it! We like it too

Thanks for the note about those letters with accents, we'll take a look to make sure it's working the way it should.
Hello,
I can't seem to create an account to save my work/ publish. Any tricks, or am I missing anything? I've tried two different browsers, Firefox and Chrome, and I can't seem to make it work.
I click create account, enter the email and both passwords, accept the policy, and it lets me click "submit", but nothing happens.
The same thing happens when you try to submit for a forgotten password.
I tried using the same credentials to see if I have an account set, but none was found.
Hey @estooie - we'll look into this and make sure it's working the way it should. After registering or signing in, the watch should get saved to your account.
Is there any way to prevent notifications/cards from appearing on the dimmed watchface?
There used to be a way to do so, but I can't recall if it was built in to Facer or Android Wear.
I'm currently using the Moto 360 Gen 2 on build LLA44S of Android Wear.
Great app so far, just a couple of details and suggestions:
1- Make it so you can choose the style of the notification (show when dimmed or not / remove transparency or not / small vs big card /etc)
2. when transparency is set to 60 or below on dimmed, stuff disappears completely on my watch (moto360 2nd gen)
3. allow colors on dim.
4. add some weather icons to the creator
5. make a "notification card test" on the creator
6. add a "launch app" action to some items (for example, tapping the weather icon opens the weather app, or updates the weather)
hope you guys keep up the good work, have a nice day.
What happened to detailed view?!? I can't edit my watchface's detailed view anymore, and that's really disappointing.
@Maxdoggy We're going to be adding notifications settings in a future update, so stay tuned! Let us know if there are any other notification settings you'd like to see in there!