DANS la formule le 0,1,2 correspond a l image 1 l image2 ETCCCC?
yes, it will give a number from 0 to 29 where 0 is new moon and 15 is full moon
Merci encore mais comment faire pour ajouter 30 IMAGES je n ai pu que mettre les 8 DANS LAYERS et je ne vois pas comment en rajouter d autres
et ou ecrire les formules?
You don't use the moon phase element. You have to add 30 normal "image" elements: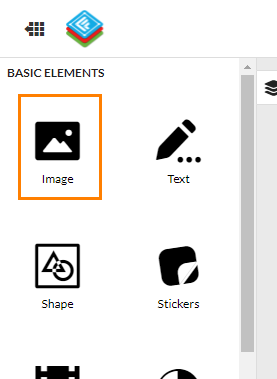 And you add the formula in the image "opacity" field: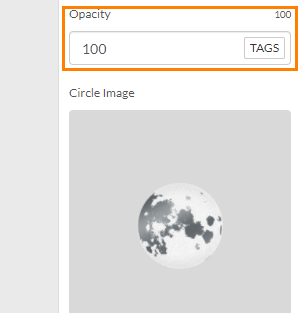 donc si j ai bien compris je telecharge 29 ou 30 images et ensuite pour l image 1 Je mets la formule 1 etccc sachant que le0 est la nouvelle lune et 15 la pleine lune? et je n utilise pas la phase de lune j espere etre un bon eleve?par contre si je veux ecrire l age de la lune comment dois je faire?heureusement que vous etes la car tout ceci m interresse mais c est vraiment pas evident et je vous admire
Nice one Matt, thanks for helping out like you always do mate

Yes that is correct.
As for writing the moon phase, you can make 30 text layers and do the same, or add the text to the image.
merci encore cela semble plus clair pour moi je vais essayer il faut deja trouver 30 belles phases de lunes et apres je me permettrai de vous recontacter vraiment encore merci car je n y serait pas arriver seul merci pour votre savoir et votre partage;hugues
etcetera… I love it. :::)))
I am looking forward to seeing this watch : )
moi aussi et j ai hate de la partager
bonjour ThaMattie et encore merci je pense avoir bien fait pour l instant j ai juste cree l image de la lune et ca a l air de bien fonctionne…on dirait que je ne me suis pas trompé il me reste ja creer des calques pour l age de la lune car je ne sais pas comment faire pour rajouter l age a l image merci encore ThaMattie.hugues
If you want it in the images, you would need to do that in a graphics editor.
Otherwise you will have to add text layers like you do for the image layers.
Bonjour ThaMattie je voulais encore te remercier et remercier toute la communaute qui partage ses connaissances.j ai essayé d appliquer cr que tu m as appris voila pour l instant ca donne ca je suis sur l ile de la reunion donc hémisphère sud j essaie d incliner aussi la lune comme je la vois .j ai reussi je crois en lisant beaucoup beaucoup beaucoup a mettre l agr de la lune qui change au fur et a mesure. Jr voudrais mettre le pourcentage d illumination de la lune mais je ne trouve pas de formule voila piuf l instant mon projet
You can use #LAT# to see if you are on the northern (>= 0) or southern (< 0) hemisphere.
For illumination I used these 2 threads as reading material:
The formula for illumination would be:
floor(((1 - cos( Moon Age * 12.1907857977 * 0.01745)) / 2) * 100)
And the Moon Age is the formula we already have, so together it should be:
floor(((1 - cos((floor(((#DNOW#/2551442844-0.228535)+0.00591997*sin(#DNOW#/5023359217+3.1705094)+0.017672776*sin(#DNOW#/378923968-1.5388144)-0.0038844429*sin(#DNOW#/437435791+2.0017235)-0.00041488*sin(#DNOW#/138539900-1.236334))%1*30))* 12.1907857977 * 0.01745)) / 2) * 100)
I have not tested it myself, but you can try it
Looking forward to seeing your results!
bonjour ThaMattie je crois avoir reussi et encore merci je ne sais pas si tu vois ma montre sinon dis moi comment faire stp pour te l envoyer ;si je veux creer une autre montre dois tout recommencer ou est ce possible de reprendre tout ce que j ai fait? encore merci car je n y serait pas arrive seul
I can see the "DEBUT" watch on your profile, if that is the one, looking good!
You can show watches on the forum by pasting the link (without any "beta" or "watchmodel" in it):
https://facer.io/watchface/PpIugerU6j
And it will show it like this:

If you want to make a new watch from another watch, you can copy it in the creator: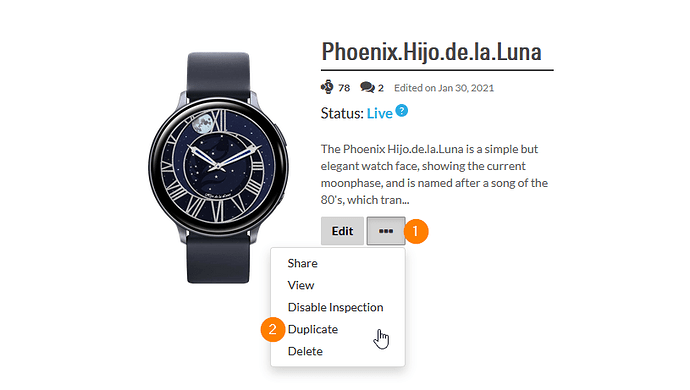 On that Face, next week there is no moon image

MERCIIIIIIIII oui c est bien cette montre ThaMattie MERCIIIIII ENCORE