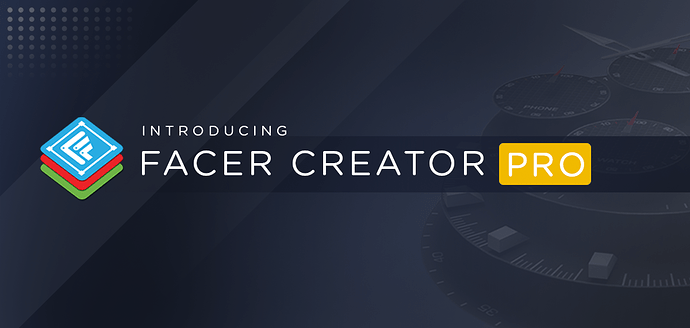 We couldn't be more excited to be launching Facer Creator Pro today — a major update to our powerful watch face design tool for smartwatches.
With this new Facer Creator Pro offering, our growing community of 25k+ designers will now have access to a number of new functionalities including color customization, interactivity and app launchers, statistics, and more!
The Facer Creator now has 3 tiers of offering:
Facer Creator: the Facer Creator as you know it, allowing you to create amazing faces without writing a single line of code.

Facer Creator Pro: the new tier introduced today which makes available all the tools formerly reserved exclusively to premium designers, including themes, interactivity, statistics, and more. Watch faces created using "Pro" features are available to the author of the faces and all Facer Premium users.

Facer Creator Partner: this is the tier formerly known as "Premium Design Program". This tier is invite-only and includes exclusive partnership and publishing opportunities with the Facer team, as well as monetization channels for your designs. We are committed to growing this tier and are scouting the Facer community daily for our next recruits!
 
 
To read all about the new Facer Creator Pro features and all other updates to your favorite watch face design tool, head over to our official announcement at news.facer.io.