SO I just started to use "swap out" the images provided by the weather conditions element in Facer creator. Before I would use my own but use the very tedious code based way to swap out images. Anyway, I noticed something strange. Each weather condition has an image and the corresponding text based weather conditions of clear sky, thunderstorms, etc, etc, right??. Heres the thing though, as a designer, I want to make sure all the parameters will fit into my allocated textbox. In fact, I think I may even spend way too much time considering this when I do my layouts. So, in the case of a face I just finished, I made sure that "scattered clouds" being the longest, would fit into my text box. However what I see currently on my published face is something completely different, a parameter that is not part of the "9" weather condition parameters that Facer uses. Now my watch face says "light intensity…" and it's cut off because clearly it doesnt fit in my textbox. My question is…WTF? How are we supposed to make sure everything fits if weather conditions that aren't listed are just injected into the Facer weather parameters provided?
Have a look for yourself. Maybe I am a dumb newbie and everyone knows about this except me?

I think it's great if we had access to more weather condition parameters, but we should know about it yeah?
currently on my watch: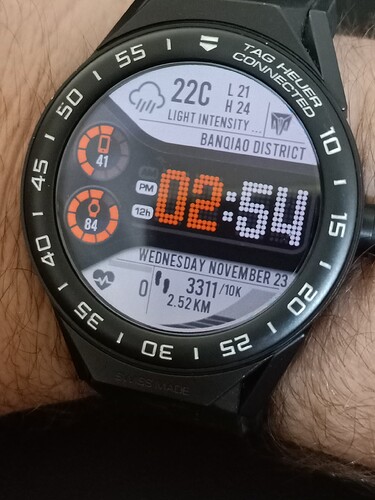 Just a shot of the watch face in creator showing "scattered clouds"