Hello Everybody,
time to time I share some of my statistic data (based mostly on followers), I am collecting manually. Last articles were about the TOP 10 designers (February 2018) and about the Relative Dynamic Growth of the TOP 11 (March 2018) designers.
Today (April, 06, 2018), I would like to present you the newest TOP 20** (!) Designers at Facer***. Moreover, you will find the average follower growth and the highest follower growth per week in the graphic below.
It was a surprise for me, that it is possible to get almost 100 followers in only one week (right site).
TOP 20 Designers at Facer
(according to followers)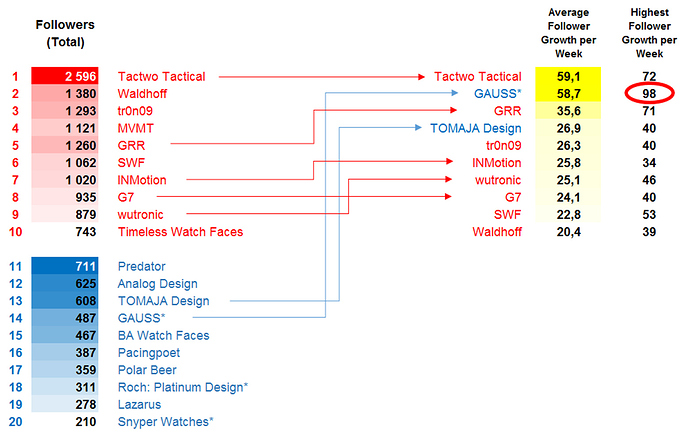 As a bonus here are the most user attractive designers in last 6 weeks.
Most User Attractive Designers in the last 6 Weeks
352 GAUSS
334 Tactwo Tactical
221 GRR
151 G7
149 INMotion
148 TOMAJA Design
139 tr0n09
118 wutronic
115 Predator
99 SWF
94 Waldhoff
91 Timeless Watch Faces
88 Roch: Platinum Design
87 MVMT
79 BA Watch Faces
71 Analog Design
55 Polar Beer
52 Pacingpoet
35 Lazarus
14 Snyper Watches
The numbers before the designer name are the new followers in the last 6 weeks.
---
*the data from this designer (in the graphic) comes from the last 6 weeks (instead 11 weeks)
** Usually I present only the data about the TOP 10 (+1) designers, however the Best Highest Follower Growth per Week was observed at a designer from TOP 20.
*** I am choosing the TOP designers basically from the "Featured Designers" and/ or from designers who are active producers of original top listed watch faces. It could happen, that I am missing some of successful designers, so please let me know, if there is somebody I should look at. Thank you.
[UPDATE] At the place 20 should be actually designer "Dalpek" with the 223 followers. Sorry for this.