Good choice! Both are great watches…
Finally got it in.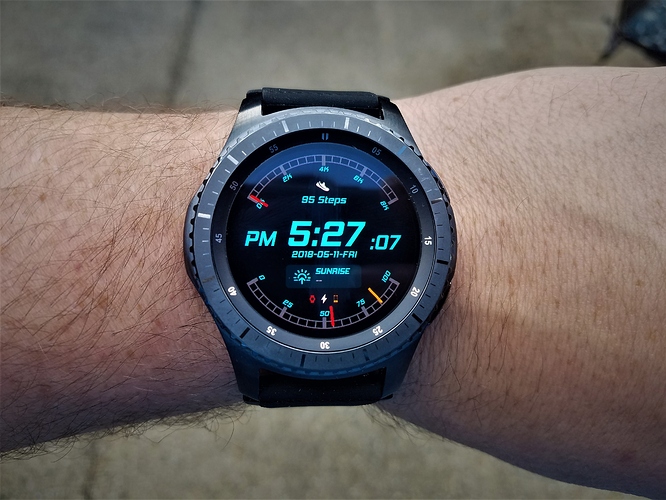 A few quick questions, since they didn't send any instructions along with this. Does StayLit Wear work on Tizen? Also do Wear 2.0 complications work on Tizen?
Looks good!
Not aware of any app like StayLit on Tizen but maybe there's something out there!
For complications, they'll default to whatever the designer picked in the Facer Creator on Tizen watches.
Nice… lookin' good

I need some recommendations for watch bands. I had 4 for my huawei. They don't fit on my new S3.
Now that you have been using this new watch for awhile how do you feel about it? I'm looking to upgrade my equipment in order to produce the best possible faces I can. That includes having a better watch to test on. I'm guessing the Ticwatch will help in that department but I was thinking of getting one of the most popular watches to make sure that all my faces look and run great. What are your thoughts if you don't mind me asking?
If I had to choose again. I probably wouldn't do Tizen. The main thing I like is the battery life over my original Huawei. The Tizen skin and restricted apps have been a pain.
So sorry this happened. On a good note, today all stores have fathers day sales, I know the Samsung sport is only 199 at Costco and if you have a best buy near you, their weekly add just came out today and on front page has smart watches on sale of all kinds. Maybe you can find a great deal on one.
I purchased the Ticwatch on prime day. I've been pleased so far. Battery life could be a bit better. I think I get a day out of it.
Can I ask which one? Ticwatch S, E, or Pro?
Mine is the Ticwatch E, Shadow, 1.4 OLED display, Android Wear 2.0 compatible with iOS and Android, Google Assistant
I'm sorry to be a broken record but I was wondering how you feel about your S3 now that you have had it for a longer period of time. I ask because I'm conflicted. I'm trying to decide my next watch and it would make sense to get one of the most popular ones for facer considering I can make sure all my faces work well it. However, I don't want one if there are still tons of problems with facer and Tizen. All I really know is that I love the screen size of the Ticwatch S but I'm not a fan of the sporty looking watches and there is literally no customization for the watch itself. Plus the battery life is terrible from my experience so far. I just can't really decide what to do.
Overall, I'm still happy with it so far. The biggest plus seems to be the durability.
This device passed military specification (MIL-STD-810G) testing against a subset of 10 specific conditions, including drops from 4.9 feet, extreme temperatures, dust, shock/vibration, and low pressure/high altitude. Water-and dust-resistance based on IP68 rating (water-resistant in up to 5 feet of water for up to 30 minutes). Rinse residue/dry after wet. See user manual for more details.
However, the Tizen system is a pain. Facer updates always lag because Tizen updates lag behind Android. Samsung for what ever reason always duplicates standard Google apps. Not all Google apps work on Tizen (ex. StayLit, Google Maps).
If you are still unsure, give it a few months. There is supposed to be a new Huawei Watch 3, LG Wear, and Goggle Pixel Watch coming out this year.
@syntaxracing check out my latest post: