How often is the weather information updated?
Welcome @sysanalyser . Sorry I do not actually have an answer to your Question . I am not sure if that question has ever been Definitively answered . When I have been traveling . I would say that the weather Station Location Data updated 3 times in 5 hours . But that is with a Mobile Data connection while Moving .
Only the current Weather would change more than once a day . It is assumed that having the Open Weather App on the Host Phone is a good Idea.
Sorry to be a bit late getting back to you .
Thanks for your answer.
I experience a maximum of 3 updates a day
If you use the TAGS: #WCT# #WCHP# #WND# #WNDDS#
you can expect them to be updated regularly.
Otherwise this is pointless on your face.
At least every hour!
If you do,a search you will see the topic has been covered a few times . MAG seems to have the best Handle on it .
You could try the Triple tap and Toggle Trick .
.
.
I have read the various posts.
Power management, location, permissions. On phone and watch.
Openweather app on phone.
Regularly open the Face app and sync.
I've done it all.
Perhaps it is time for Facer to fix this?
I dont think Facer Concider the Weather Data Update Period Broken . I have Data Back on my Personal Face . I am very Happy With what I see there . Appart from being on the Move the Data there suits me well to estimate if it is a Good Day for a Dip In the Sea . If I was Sailing a Yacht Round the Bay I would use a Different Instrument for the Navigation and Weather Data . I would expect that equipment to cost about $6000 .
.
.
.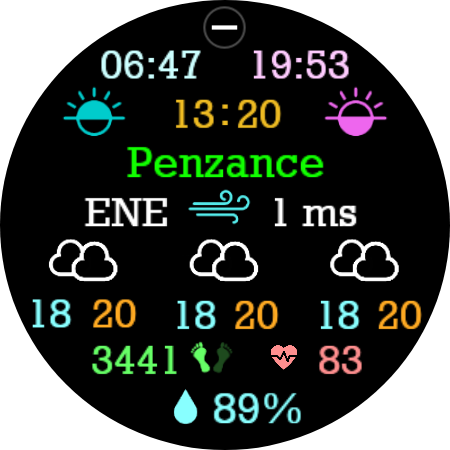 I find the weather information that is only updated 3 times a day unusable.
Yesterday it was 18C at 7am, at noon it was still 18C while it was 30C degrees.
The wind is also always less in the morning than during the day, etc…
If you have Aa PRO you can put a Customisable Complication on your watch and Have any Weather App on Google Play store come up at a Tap . I use GS Complication Suite . He has made som Beautiful Graphs . Facer use Open Weather Because it is a Free Lisence . Samsung do no have Weather at all on WFS because they do not want to pay a Licence Fee to a Third Party. I don't know about WM . I will ask for you .
In my case, it's updated about once every hour or, as russellcresser said, 3 times in 5 hours.
Something like that. Didn't have problems with update frequency. Not great but good enough.
Weather info but more specifically, location is a constant issue with Facer. It is a complete mystery how and when the location and information is updated. It seems stuck on my home location 95% of the time, regardless of what city I am in. Occationally it will update to my real location but then only revert back to my home location an hour later even though I have not moved.
If Facer had the funcationality of Watchmaker, then this would be the perfect watch face app but super frustrated they focus on supporting 3D watch faces but cant get basic funtionality to work.
Watchmaker lets you set:
Weather update interval
Change weather provider
How it sets loction (device GPS or manual)
Force refresh of weather data
And ability to source via wifi on the watch instead of phone)
@msimons . Pleaser tell us Why you Come to Facer . We are all Aware of the Shortcomings which you will be aware of if you Search some of the old topics . Are you Fed up trying to make something on a Mobile Device or Struggling with Lua .
Oh excuse me I just Looked at Your Profile . I thought you came here as a Maker . Your Topic will get a Better Response on the Official Facer Facebook Page .