…this time roulette

"Rien ne va plus…"
Wooow.
You are fucking genius! How the heck did you do this animation combined with rand?
Greetings,
Phantasico aka GAUSS
Hi @GAUSS!
Thanks for compliment

I will show it to you at my another watch face (it's a bit easier).
…and here is the "secret expression" for the bottle (and components) rotation:
(-90+(interpAccel(#DWE#,0,3,0.05) * (2880+((wakeRand(0,80)) * 4.5))))
nothing more

Thanks a lot, @Tomas.
I definitly have to learn more math and need to get used to all that codes and logical combinations. I have been graphic Artist my whole life long but had never been a coder.

Normally i had programs when i wanted to create animations. Facer Creator is … hmmm … some sort of archaic and pure…
Greetings,
Phantasico
Hi @jmorga106, @roycaruso, @GAUSS,
thanks a lot for your comments!
Actually I would likely to be a designer in the first line… Almost all my watch faces based on some kind of (new and new) coding (math) effect - this is a lot of fun for me, but…
…on the other hand it means, that the design process starts after the (animation) effect.
If you are designer… you make your idea visual and the boring coding could be just copied e.g. from tomaja tutorials

@Tomas Maybe we should start a cooperation, lol.
I am not simply copying code - i really try to understand it, but its difficult for me because i am new to this part and i am not the youngest anymore.

I spent my whole life with graphics, began sketching when i was about 6 years old and never stopped until.
I made portraits, Nude Art, Cartoons, Game- and WEB-Graphics, people photography, built 3d-dimensional interactive worlds and are teaching technical drafting and CAD-Construction since 20 years. I am working with CAD and Photoshop about nearly 25 Years.
This is my phantastic little world, Coding never was. But i have high respect to those who are able to program. I worked together with programmers a few times before.
You are right - for me first of all my idea counts and needs to be visualized, but i try to combine the possibilities good coding has.
Have a nice day,
Phantasico
Deal

!
I love coding, tricks, effects, animations, math, etc. and I do like to share this knowledge in the didactic visual form, which should be easy to understand (e.g. me more than 15 tutorials).
Please just ask me, what especially you want to understand and I am sure also another creators could have profit of our discussions.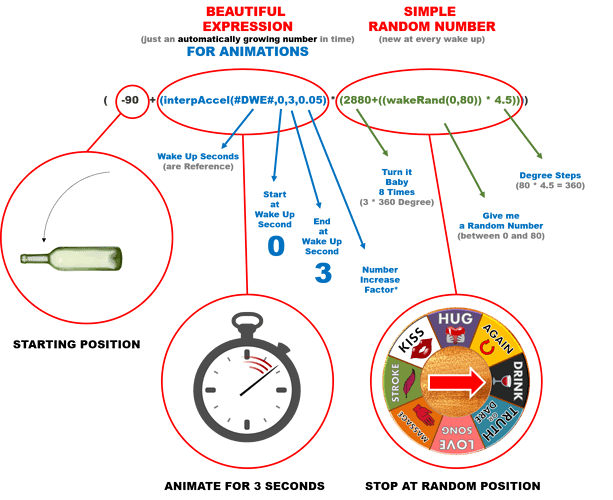 *Detailed Explanation from @eradicator09
---
[UPDATE] at the number "2880" in the explanation should be (8 * 360 Degree)
Great and simple explanation. And i know, what i am saying because i am a teacher.

I will ask, when i need help, but first want to find out for myself…
Wow @Tomas, you are always blowing my mind. I'm in the same boat as @GAUSS. I've never been a professional graphic designer but I've been using Photoshop for about 17 years now just because I love it. I need to have an almost daily artistic outlet since I stopped tattooing professionally. I used to code html back 17 years ago but that's the only coding I've ever known. There's definitely a learning curve when it comes to that portion of watch face designing but thanks to this great community, especially Tomas, I'm learning a lot. I'm always so excited to see what we all come up with!
Cute design. Can we get one for food so I don't have to decide what I want to do for dinner on cheat nights? Pizza, Tacos, Chinese, Sushi, Burgers, Pasta, Chicken, and Wings?
Hi @, actually I do have such a watch face already for you

Just, name the dinner and look at this watch face
you need one for the ever present question of:
Cheap
Fast
Good
Pick two.
pretty slick @Tomas. awesome.
John
@Tomas Eh. Defeats the whole purpose of the watch deciding for you on the first go. Would prefer for the spin just to pick and not have to initially choose.
You are absolutely right @LinzZz ! And here is your special watch face

LOL these are great Tomas!
john
I borrowed your design to create an IT Troubleshooting watchface

I love the new food watchface, I'll defintely be using it me and my gf take forever to agree on something!